DMHS was recently contacted by a remarkable young woman – just 12 years old – who offered us 150 "Penny Pack" hygiene kits she had assembled for people in need. The more we learned about McKenna and her work, the more impressed we were.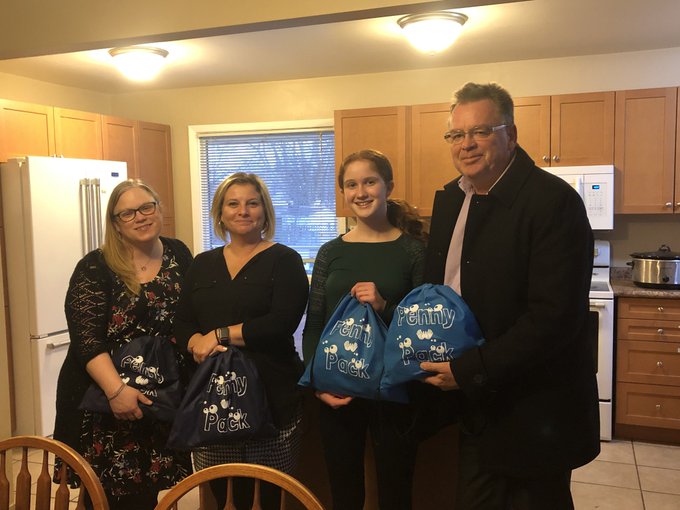 Last week we had a chance to meet McKenna and give her a tour of our Whitby Crisis Beds location. She shared with us the information below about her efforts and her future goals.
DMHS – What inspired the idea of the Penny Packs? How did they come about in the first place?
"The Penny Pack Initiative originated in 2018. I was 11 and was part of a Young Leaders Group at the Future Design School (FDS) in Toronto. As part of our session we had learned about those that are homeless, and we were asked to consider the challenges that they may face. We listened as speakers shared stories, and statistics, and even though I was aware of some of these things, it all became very real that day. What opened my eyes the most was that the simplest of hygiene necessities were not always met and this lead me to think of ways that I could help."
How did you organize your efforts, for example, how did you know who to contact to move your efforts forward?
"The FDS offered amazing support to me along the way; I researched further, designed the Penny Pack, set up a GoFundMe account and began my fundraising efforts while reaching out for product donations within the community all very quickly.
"I also made a terrific connection at the Seeds of Hope Foundation in Toronto, where I had learned more about the services that they offer, and the needs surrounding them. This led me to research more within my own community of Durham Region, where I continue to meet new contacts, and to learn along the way."
What organizations were originally involved and how did you expand to include additional organizations such as DMHS? What feedback have you received on the impact of the program?
"The first year, we were able to raise enough funds to assemble and distribute 400 Penny Packs to the Seeds of Hope Foundation to reach those living in shelters and on the streets in Toronto. We were also very excited to provide 100 packs to the Durham Outreach Program in Oshawa that first year.
"I was fortunate enough to meet with some of the people that help run these programs, and I was able to learn more about the challenges they face and how a personal hygiene pack could provide more than just comfort to someone in need. It was incredible to learn more, and to be assured that this initiative could truly make a difference.
"This year we were able to provide another 100 packs to the Durham Outreach Program, and our contact there was able to share with us that there are others within our community that may be in need of these packs as well. She referred us to DMHS.
"It was terrific to meet at a DMHS location, to provide packs and to learn more about the services that are offered, and the needs within our community. Taking the time to talk and to spread awareness is something that I think we all need to do. Thank you for sharing your time with me!
"We also delivered another 100 packs to Lakeridge Health Foundation this past week. It was so nice to meet with some of the staff, along with others that will receive the packs.
"In total the Penny Pack Initiative has raised over $9500 and every penny goes in to the creation of the packs, with 800 assembled and distributed so far."
Do you have any future plans for this initiative?
"In the future I can see that the Penny Packs will include others items as needed. This year, we introduced some packs with feminine hygiene products, and we would like to move forward by also providing some summer/ spring packs, with sun protection and other essential items for warmer weather.
"I would also like to continue to research and learn more about the specific needs within our community so that the Penny Pack can evolve as needed."
What's been the impact on you personally?
"When I first learned about some of the challenges facing those that are homeless in the Toronto area, I was unaware that there are also a large number of vulnerable people right here in Durham Region. I think that we may associate these types of challenges with larger cities and are left not understanding the needs within our own community.
"I have learned that listening to the needs of others, and spreading awareness have been so important throughout this experience. I have also learned that people care and that there is an incredible strength within our community!"
Thank you McKenna for your impressive work on behalf of some of our community's most vulnerable citizens! �