September is National Suicide Prevention Awareness Month and on Saturday, September 16, local musicians are shining a spotlight on this major community health problem.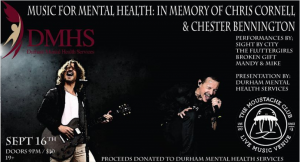 Taking place at The Moustache Club (15 Simcoe Street North, Oshawa), "Music for Mental Health: In Memory of Chris Cornell and Chester Bennington" features performances by local artists Broken Gift, Sight By City, The Fluttergirls and Mandy & Mike. All ticket proceeds will be donated to Durham Mental Health Services, who will be in attendance to speak about their programs.
Concert organizer Laura Antonelli explains, "When Chris Cornell passed away back in May, that's when the idea for the show first came about. I'm a big fan of his music and it just came as a huge shock to lose him by suicide. A few months later to lose Chester Bennington the same way was just heartbreaking and the show then naturally evolved into what it is now, which is a tribute to both of their bodies of work."
Asked about the connection to Durham Mental Health Services, "I know that DMHS does great work within our community and I wanted to find a way to get the word out about their programs, so that if someone is looking to get help that they know these resources are available to them."
Doors open at 9:00pm. Tickets are $10 and are available at the door and through Ticketscene (https://www.ticketscene.ca/events/19043/).
Facebook event link: https://www.facebook.com/events/1552428394852401/?ti=cl