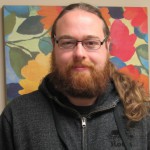 Jeremy is a 29-year-old born and raised in Oshawa. He enjoys reading, listening to music and is active in the world of wrestling – doing ring announcements and promoting local matches. In 2010, difficult conditions at home combined with active mental health issues left Jeremy homeless and losing hope about his future. Since then, with the help of DMHS, Jeremy has been rebuilding his life and now looks forward to a great future. Here is his story.
Jeremy's Story
In 2010, I moved out of my Mom's house as the living conditions there had become overwhelming for me. I couch surfed in Port Perry for some time and also struggled with chronic depression and PTSD.
When I applied for welfare through Ontario Works, their staff advised me that they had a counsellor onsite from Durham Mental Health Services and I began meeting with her. Although my mental health was pretty bad at that time, I was not then seeing a psychiatrist and had never been diagnosed. The DMHS community mental health worker got an ODSP application started for me. She also suggested I connect with DMHS' ongoing community support program and reconnect with a psychiatrist I had seen years before in order to get a diagnosis.
I began seeing a long-term community support program worker. We created a list of goals I wanted to accomplish, starting with finding decent, affordable housing. Eventually I found a place I could afford and began to focus on other goals. Getting my Grade 12 diploma was a high priority. Within three months of starting continuing education, I had earned the credits I needed to graduate. Another goal was to consider applying to college. I was terrified but I took this leap and started a Social Services Worker degree at Durham College within a month or two of graduating from high school.
Once I started achieving the bigger goals – finding stable housing, completing high school, starting college – I was better able to handle the little day-to-day issues that cropped up, such as concerns for my Mom's health and maintaining my relationship with my girlfriend.
By April 2012, I was well enough and stable enough to stop seeing my community mental health worker. I'd established a good relationship with a psychiatrist. I'd addressed some minor health issues. My Mom was doing much better. I had started volunteering in the Supported Education program at Ontario Shores and took on a bigger course load at Durham College.
Now, I've just completed a three-month placement in DMHS' Peer Support and Residential Programs. I graduate with my Social Services Worker diploma in April 2015. I'm looking to get into university to pursue a Bachelor's Degree. I still keep in touch with my former ongoing community support worker, just to stay connected.
Looking back, I am amazed at how Durham Mental Health Services helped me lay the foundation for the success and happiness that I'm achieving now. Many thanks to the DMHS workers who helped me.