In the last several years, Durham Mental Health Services has extended its reach beyond Durham Region's borders by establishing partnerships with Scarborough-based hospital and community mental health programs.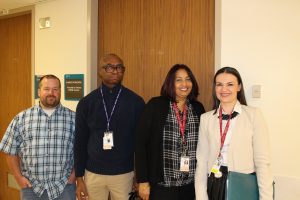 DMHS' funder, the Central East LHIN, includes Scarborough within its borders. Given DMHS' demonstrated track record of providing effective, efficient and innovative services within Durham Region, the CE LHIN extended this opportunity to provide programming in Scarborough.
DMHS Scarborough services include a Hospital-to-Home partnership with three Scarborough and Rouge Hospital sites (Scarborough Birchmount, Scarborough General & Rouge Valley Centenary) and a Community Treatment Order (CTO) partnership with CMHA Toronto.
DMHS offers clients service opportunities that extend beyond the region they live in – for example, many Scarborough-based clients benefit from accessing the crisis beds in Ajax or Whitby. In addition, because DMHS provides services that persist after hospitalization, clients move forward with their recovery goals with continued, coordinated community support.
This specific example of client care demonstrates how DMHS Scarborough services are integrated with many hospital and community resources in order to provide the highest quality of client care.
A client was referred to DMHS Scarborough Hospital-to-Home (H2H) case management in Aug 2016 with a history of repeated Emergency Room visits and inpatient stays.  DMHS staff filed an application for CMHA Toronto ACT Team support.  In the meantime, he  was referred to numerous community resources:
As he  presented with no ID, he was referred to PAID (Partners for Access and Identification) and was able to obtain his Verification of Status document from Immigration Services.
Due to a desire and willingness to work, the client was referred to CMHA Employment Supports and completed an intake. He is currently waiting to be contacted and will begin the program soon.   
He was also referred to Pathways Depo Clinic for his monthly injection.
In January 2016, this client began being supported by the CMHA Toronto ACT Team  and was discharged from the DMHS H2H Scarborough Case Management Program.
In this instance, a Coordinated Care Plan (CCP) brought the entire care team together to focus on the client's short  and long-term goals. DMHS' Scarborough services work with clients on an ongoing basis to provide support through CCP development and timely linkages to community support.
In addition to these programs, Scarborough is also served by a DMHS Regional Housing Coordinator, a DMHS Aboriginal Mental Health and Addictions Outreach Worker, and by DMHS leadership and support for the Ministry of Health's Scarborough-based community HealthLinks. All of these service components work together to provide high-quality, coordinated client- and family-centred care to individuals with complex health needs.