We know what it's like to feel stuck. We have the ability to operate at the limit of some of the system's black-and-white boundaries, to step outside the box and deliver services in a way that differs from what a consumer might expect from standard traditional services or from the style of service they have received in the past. Just the step of identifying ourselves as Peer Support, to our colleagues and to anyone in the system, is fighting stigma because it's saying "I'm not afraid to identify that I have lived experience; I'm not afraid to be who I am."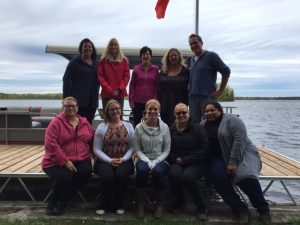 Mental health services have been transforming over the past two decades with the emergence of the recovery model – a vision of service delivery that fully respects client dignity and autonomy and the expertise that clients bring on their own lives and situations.
One major component of the recovery vision is Peer Support – that is, services delivered by individuals who have their own lived experience of mental illness and recovery. Durham Mental Health Services is a leading local provider of Peer Support services, employing 10 full-time Peer Support Specialists who are connected to every DMHS program, including Crisis Services and Community Support.
DMHS Peer Support Specialists perform a variety of roles, running the two agency Day Programs (New Winds Whitby and New Leaf Ajax) and supporting clients across all agency programs. The nature of their service depends on their specific role. For example, those connected to the Day Programs facilitate psychosocial educational groups; the Family Support and Peer Support Specialist works with families to engage their loved ones in needed mental health services; the Crisis Services Peers help clients see their possibilities and meet their immediate needs; and a DMHS Peer Support Specialist is embedded in DMHS' intraprofessional Hospital-to-Home team situated at Lakeridge Health Oshawa.
Training is a core feature of DMHS Peer Support services. Peer Support Specialists are all trained to deliver regularly scheduled Mental Health First Aid workshops. They run groups on Living Well with Chronic Conditions and most recently started up a Mindfulness skills training series. Another vital program is WRAP, or Wellness Recovery Action Plan training. WRAP provides participants a chance over eight weekly sessions to develop their own individualized plans for managing every aspect of their lives. Two DMHS Peer Support Specialists are certified WRAP Train-the-Trainers, increasing capacity across the Central East region to deliver this evidence-based wellness program.
DMHS is just one of many local community mental health organizations that provide Peer Support services. All of these organizations work collaboratively as members of the Central East LHIN's Peer Support Network, chaired by Peer Support Network Lead Lisa Scuse. The Network shares information, educates each other on the possibilities of Peer Support program development and facilitates inter-agency contact. Lisa explains that "the network provides us as peers a reminder that we are part of a larger community and of a larger movement that embraces the recovery vision. It is really important to stick to our roots and to be continually reminded of them." This larger community extends province-wide, as DMHS also participates in the Ontario Peer Development Initiative.
DMHS Peer Support Coordinator Mark Bouwmeester highlights the influence Peer Support services exert on the mental health service system. "Peer Support's advisory role at DMHS and in the community is an essential part of their work. We advocate for those we support at meetings, on various committees and by promoting positive change through the system."
Several DMHS Peer Support Specialists commented on the value of Peer Support. What they said aptly describes the unique perspective and contribution of Peer Support.
" As a staff member, I am a leader; but as a peer, I am one of the group. We learn together and work side-by-side and I am part of the New Winds family."
" We challenge the status quo and advocate from the peer level to ensure everyone's voice is heard and their needs are met."
"When people are calling in to Crisis for the first time, it is a comfort to them to know they can be connected right away to someone who has lived in their shoes and has been where they are; also, since there is no formal referral process, I am always just a phone call away from reconnecting and re-establishing a relationship."
"Our shared experience can make possible a deeper level of empathy and connection."
"Peers can really communicate to clients: ' I might be the professional but you are the expert on your own life and on your own situation and will be the one deciding what recovery looks like for you.' Sometimes people don't realize how much control they have; I like to emphasize, "You have the ability at this very moment to decide what path your life is going to take."
"Peers provide a sense of hope – someone else has been through this and got it through it with their health and their hopeful future intact; it helps people to see that there is a future, that anything is possible."
"People often come to service feeling discouraged and disempowered, looking for solutions from others; peer examples and encouragement can help them see and embrace the power they retain to shape their own lives."