DMHS' Justice Initiatives operate at the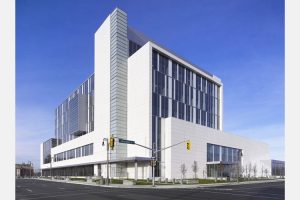 intersection of Ontario's criminal justice and mental health systems, and represent a major strength of the organization.
Such programs exist because far too many individuals with mental health issues come to the attention of the mental health system through their involvement in a criminal justice process. This sad fact also presents an opportunity for engagement and for linkage to needed health services.
For many years, DMHS' Mental Health Court Support program was staffed by a single person. The program's major expansion over the years testifies that funders and other stakeholders recognize the value of a humane, recovery-centred approach to low risk offenders who experience mental health issues.
The program serves three main roles:
Providing traditional "case management" support by linking clients to needed community health and human services;
Helping guide clients through an often unfamiliar, confusing and anxiety-provoking criminal justice process; and,
Arranging for clients to be diverted out of the criminal justice sector and into the mental health sector, when this is deemed safe, appropriate, and agreed to by all of the legal stakeholders involved.
As Mental Health Court Support Worker Kimberly Blanchard remarks, "Connecting individuals to appropriate mental health supports addresses their uniquely identified needs and hopefully in turn, reduces recidivism."
Of the five Court Support workers, four are designated to work with individuals 16 and up, while the fifth is designated to work primarily with transitional-aged youth (under 16 and up to the age of 24).
Various service options include pre-charge diversions (in partnership with Durham Regional Police and the Crown Attorney's Office); these give police officers the flexibility to not lay formal charges, but instead to begin a contract between the offender and DMHS, supported by the Crown Attorney's Office. Upon successful completion of the conditions of the pre-charge diversion plan, no charges would be laid.
Closely related is the post-charge diversion, in which charges have already been laid. Upon successful completion of the conditions of the diversion contract, clients have an opportunity to have a more favourable outcome of their criminal matter.
Our Mental Health Court Support workers are stationed in offices right at Durham Region's Courthouse (Main Floor, 1104 and 1106). Referrals can come from any source, including self, defense counsel, or Crown Attorney's office.
The fact that the team is well-known to and respected by all of the many prosecutors and defense attorneys who work out of the Courthouse means that there is less likelihood of any potential client falling through the cracks.
Members of the Court Support program are valued members of multiple committees, such as Aged HART, the Drug Treatment Court, the Concurrent Disorders Network, the Local Courts Management Advisory Committee, the On-Site Youth Psychiatric Assessment Committee and the Youth Justice Network.
Through this committee work, strong and professional rapports are consistently developed, all in the best interest of client service and of system navigation.