Families are often plunged into the confusing world of mental illness with little preparation and minimal knowledge, often feeling isolated, afraid and overwhelmed. They encounter barriers in the helping system and are seldom provided with the support, education and resources they need.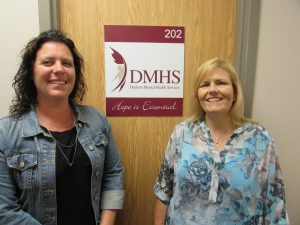 Recognizing that families are integral to recovery, DMHS' Family Support Program strives to help family members maintain and enhance their role as caregivers by providing information, education, advocacy and support.
Typical issues that families face include setting limits/boundaries; managing stress and anxiety; coping with risky behaviors; navigating the mental health system; knowing Ontario's mental health legislation; feeling overwhelmed and isolated; communicating effectively; coping with crisis situations; dealing with guilt, shame and stigma; coming to terms with the illness and its impact; and, maintaining self-care.
DMHS' Family Support Program helps families manage these multiple issues by offering three modes of support:
One-on-one case management services
Weekly peer support groups + other groups (including Mindfulness, WRAP, Mental Health First Aid) as scheduled
Monthly educational sessions, in partnership with Ontario Shores Centre for Mental Health Sciences and CMHA Durham
Among the outcomes the program aims for are improved family communication and dynamics; reduced stress; improved coping ability; more effective management of crises; better support networks, including appropriate links to the healthcare system; increased understanding of mental illness and recovery; and, increased understanding of Ontario's mental health legislation.
"Our Family Support clients are navigating a challenging process, even a new phase of their lives," says Denise Gould, Family Support Community Mental Health Worker. "Part of their work involves coming to accept the changes that are going to be a part of their lives going forward. As they do this work, it is so important for them to have a safe space to understand and explore their new realities."
Mark Bouwmeester, Family Support Coordinator adds, "These new realities will involve some loss and pain but they can also lead to families uncovering existing strengths and developing new and stronger connections to each other."
Family Support services have recently been enhanced with the provision of peer support to families of loved ones who have not yet established connections to the mental health system. These families are assisted by a DMHS Peer Support Specialist, who develops a personal connection with the individual and gradually – on the individual's own terms – introduces them to mental health system resources. Referrals to this enhanced service come from within the Family Support program, for existing clients.
"In order to make this work, we need to have a prior connection with family, in part so that they understand that it's going to be a gradual engagement process and going to take some time," says Denise Gould. Aubrey Andrus, the Peer Support Specialist involved in the Family Support Program, says "Working closely with Denise – and being sensitive to the importance of confidentiality – we can both support the family with their needs and work to engage individuals who may not have any connection to the mental health system. This is a very exciting, promising opportunity and oftentimes for the individual it is a less intimidating way for them to open up to the idea of having a support person."
Mark comments, "I'm very excited that we have two very skilled and competent people that are involved face-to-face with families, able to work to set limits, redefine expectations, and celebrate successes. It helps people to see that there is hope."