In Canada, Dual Diagnosis refers to people who have both developmental disabilities and mental health challenges. Approximately 1% of Canadians experience developmental disabilities according to the Canadian Survey on Disability (2012). People with developmental disabilities are 50% more likely than the general population to also have mental health diagnoses.
D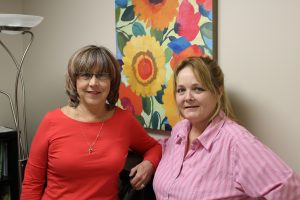 urham Mental Health Services serves individuals with Dual Diagnosis in every agency program. When additional support is needed, DMHS staff will contact the agency's Dual Diagnosis Crisis Response Network Coordinator, Heather Jay. Heather works in partnership with Community Living Ajax-Pickering-Whitby and her position is funded through the Central East Community Network of Specialized Care.
Heather explains, "I receive referrals both from within DMHS and from all sectors in the community including schools, hospitals, law enforcement, and from developmental services.  My role is to provide immediate support – to respond quickly, to mitigate risk, and to link to appropriate services. I help link clients and their families to Developmental Services Ontario and to any other services which will help meet their needs."
In addition to providing Dual Diagnosis crisis support, the Dual Diagnosis team also represents DMHS on the Durham Coordinated Response Committee (DCRC). This committee is comprised of representatives from the developmental sector and operates at a systems-level to identify and creatively fill gaps in existing services and supports.
"A large number of individuals with Dual Diagnosis are at immediate risk for crisis," Heather says, "due to risk of homelessness, lack of services, caregiver illness or burnout, or other issues. The DCRC strives to provide a consistent and standardized Urgent Response process within Durham Region for these individuals."
A third important role is to represent DMHS on the Human Service and Justice Coordinating Committee's Dual Diagnosis Intensive Case Management Committee. This provides support to persons who are in conflict with, or are at risk of being in conflict with, the Criminal Justice system. Support is transitional in nature.
The Dual Diagnosis Crisis Support role is mandated only for short term support for individuals but often longer-term support is required to prevent crises from reoccurring and to support clients move towards their personal goals. Thanks to temporary funding, DMHS was able to provide a second worker to complement the Crisis Support role.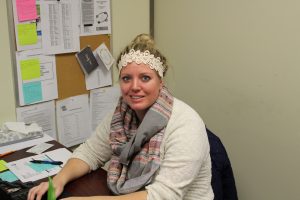 In October, Jenna Couvier joined DMHS' Dual Diagnosis support team to work with Heather. Jenna provides community mental health supports for a longer period of time than Heather is mandated and supports Heather with her role in a variety of ways.
The third member of DMHS' Dual Diagnosis Team is Community Mental Health Worker Susan Brooks Frank. Susan's role is the same as that of other DMHS Community Mental Health Workers – helping clients meet any unmet needs that stand in the way of recovery.  Transportation is a real barrier to service for many people with Dual Diagnosis, who often do not drive and have problems taking public transit. People with Dual Diagnosis often need hands-on support to access area services plus advocacy to help other service providers work collaboratively to meet the client's needs.
Many people with Dual Diagnosis have problems with short and long term memory and need many reminders and coaching on appointment times and locations, what they need to bring or do, and help practicing coping skills.  Inherent in the role is also coordination with family members and other service agencies such as Community Living, Psychiatrists, Family Doctors, Education Professionals, other mental health agencies, and sometimes the legal system.
Susan adds, "DMHS' Dual Diagnosis team coordinates appropriate supports which take into account the learning styles and intellectual challenges of clients. Most of our clients have extremely complex needs yet as an agency, we meet people where they are to provide these greatly needed supports."
If you know or encounter someone with a developmental disability plus a mental health challenge who wants support moving forward with their needs and goals, please call DMHS Dual Diagnosis Crisis Response Network Coordinator Heather Jay at 905-448-0453, ext. 3266.