DMHS operates two day programs for individuals with lived experience of mental illness – New Leaf based in Ajax and New Winds based in Whitby. These are safe, supportive environments where members can connect with peers, learn useful life skills, enjoy outings, reduce isolation and benefit from psychosocial education and from groups on topics of interest selected by members.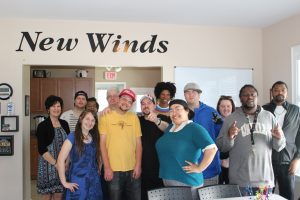 The day programs also increase member's nutritional security by providing light, healthy lunches, and in Whitby, by running a community kitchen program where members can prepare and take home nutritious meals for the weekend and by providing a small grocery cupboard to help members in time of need.
Both programs are run by DMHS Peer Support Specialists. Collaboration and camaraderie among staff and members are integral to the design of and the success of these programs. It creates a close community and empowers members to be open about their own experiences in a place where they find acceptance and understanding.
The collaborative, client-driven design of DMHS day programs also encourages members to take ownership of the group's direction and activities. Facilitation is shared with clients who have special interests and expertise in group topics. There is freedom for members to be creative, to experiment with new skills and, for example, new recipes, and to help design programming that is responsive to their needs.
At New Leaf, partnerships with COPE Mental Health Ajax- Pickering, Lakeridge Health Ajax ACT Team and Ajax Municipal Housing Corporation contribute greatly to the program's success. Operating at Post Hill Apartments, the on-site day program support can provide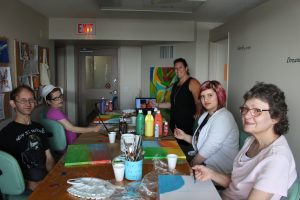 purpose, structure and direction to those residents who are not able to work. New Leaf offers a sense of belonging to a community where they can nurture relationships that they can build on outside of the program. They can also be linked efficiently to other services both at DMHS and at COPE.
AMHC General Manager Kevin Bradley says, "The partnership with New Leaf has been great – I hear many positive comments from the residents. They love that it is right here in their building and that they are made to feel welcome. It's been a beneficial partnership all around – for our tenants, for AMHC and for the partnering agencies – a win/win/win."