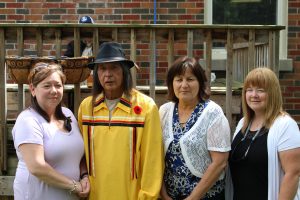 DMHS marked National Aboriginal Day with a ceremony at New Winds Day Program in Whitby, including teaching from Norman Coleman, a Community Knowledge Keeper with Matchewan First Nation and Kathy McLeod-Beaver, Aboriginal Cancer Care Navigator with Cancer Care Ontario.
DMHS Aboriginal Outreach Worker Connie Spencer spoke about the meaning of National Aboriginal Day and its importance for service agencies such as DMHS. "For aboriginal people," Connie says, "National Aboriginal Day is not only the recognition but the mark of the summer solstice. It's a time for renewal and rejuvenation. I think it's important for all agencies including DMHS to be educated and aware because there are a high number of aboriginal people needing mental health support."
After an opening smudge ceremony, Norman and Kathy shared their knowledge on how connection to culture can help people more forward in their lives.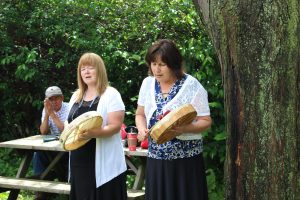 When asked how having an Aboriginal Outreach Worker can help depend a client's connection to their culture, Connie responded, "It depends on the client and on how culturally engaged and attached they are. For some, it might be an opportunity to begin learning about their cultural roots because they don't know a lot about where they came from or where their ancestors came from. For some, deepening this connection can help them stay on a healthy path."
For more information about DMHS' Aboriginal Mental Health and Addiction Outreach Worker, please contact DMHS Aboriginal Mental Health and Addictions Worker Connie Spencer at cspencer@dmhs.ca or 905-666-0831, ext. 3218.