From the Durham Regional Police Service (http://www.drps.ca/internet_explorer/whatsnew/whatsnew_view.asp?Related_With=Service_Excellence&Scope=&Scope_ID=&ID=31205)
Former Mobile Crisis Intervention Team Officer Constable Scott Logan Recognized as Public Hero
Constable Scott Logan was recently recognized at this year's Public Heroes Awards in Mississauga.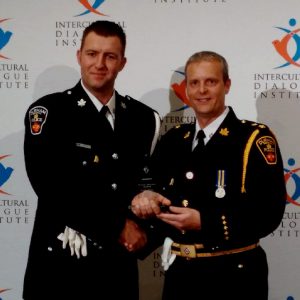 Each year the Intercultural Dialogue Institute (IDI) presents awards dedicated to celebrating professional excellence, dedication and altruism in community service.
Constable Logan received this award in recognition of his commitment to reducing the stigma around mental health for both the officers and those suffering from mental illness.
Mental Illness affects a large number of people in our communities. Statistics tell us that one in every five people suffer from some type of mental health illness and many suffer in silence because of the stigma attached to it.
Congratulations to Constable Logan!