The New Winds Day Program at Durham Mental Health Services operated a BBQ cart this past summer, serving customers at the Salvation Army Thrift Store on Brock Street North from June to October.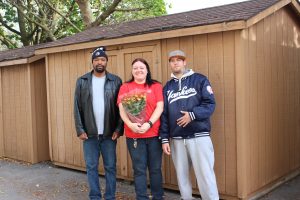 Two Day Program members who worked on the cart are Mike and Akil (pictured with Brenda from Salvation Army Thrift Store).
They explain that when the BBQ cart was hiring, they were encouraged by New Winds Day Program staff to apply and they got the jobs. They worked 18 hours a week, taking inventory, getting the cart ready for the day, setting up on site and serving customers.
Mike says "The most fulfilling part was probably cooking. It's something I have a knack for and that I have always enjoyed". He also notes that, "It was helpful to build up some job experience."
Akil mentions that interacting with the public was a highlight for him. "Our customers were very pleasant and polite. They would often ask about the BBQ cart and this was a good opportunity to raise awareness of DMHS."
Both Mike and Akil look forward to returning when the New Winds BBQ cart resumes operations in summer 2018.