Central East Health Links
The information included below is intended to provide a basic overview of the Central East Health Links.

Background
In 2012, the Ministry of Health and Long-Term Care launched the Health Links initiative to provide coordinated, efficient and effective care to patients with complex health care needs. As of March 2015, there are 69 operational Health Links in Ontario at various stages of development, funded through the Local Health Integration Networks (LHINs). The Central East LHIN has approved the development of seven Health Links.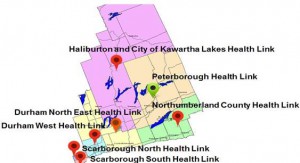 What is a Health Link?
A Health Link is a local health care network consisting of patients, caregivers, health care providers and community support agencies who are committed to working better together to improve the health outcomes for patients with complex health care needs.
Through enhanced collaboration among Health Link partners, patients with complex health care needs, along with their health care providers, will develop individual care plans that more effectively meet their goals and ensure smoother transitions between care providers.
How will a Health Link improve the patient's experience?
The patients' journey through the health care system will be improved through more effective communication with their health care providers and more involvement in decision making. By having a Coordinated Care Plan, patients with complex health care needs will benefit by not having to continuously repeat their health story or answer the same questions every time they require care.
 What does the Health Link approach hope to achieve?
Over time, the Health Link approach aims to achieve the best possible health outcomes and enrich the patient's experience of the health care system by reducing wait times, visits to the emergency department and unnecessary hospital readmissions.
 Who is involved in Health Links?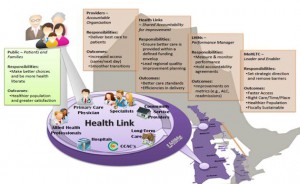 Health Link initial priority population(s):
Health Links is focusing initially on complex patients that are high users of the health care system. Qualitatively these patients are the people who use multiple services across multiple sectors and are difficult to care for, such as those who have 3 or more comorbidities or "factors" such as those listed.
Quantitatively they may be measured by the indicators such as those listed below:
Chronic health conditions (including mental health/addictions or dementia)
Acute episodes or escalation in needs
Visits to primary care
Visits to Emergency Departments
Living environment (caregiving, living alone)
Economic challenges
Transportation challenges
Language/communication barriers
 What is a Coordinated Care Plan?
The Health Links Coordinated Care Plan is designed to assist the patient with their daily health care requirements.  It outlines the patient's short and long-term needs, recovery goals, and coordination requirements and it identifies who is responsible for each part of the plan (e.g. the physician, care team, patient, etc.).
 Where can I find more information?
For more information about the Central East Health Links, please visit the Central East LHIN and the Central East CCAC websites or call 905-430-3308 EXT. 5871 or 1-800-263-3877 EXT. 5871.