Clients of Durham Mental Health Services' Senior Support Program gathered at Ajax Municipal Housing Corporation's Westwood Manor this week to celebrate the arrival of new iPads.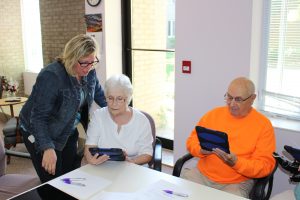 The iPads were provided thanks to Health Links Quality Improvement funding from the Central East Local Health Integration Network (CE LHIN).
DMHS CEO Rob Adams says, "We are so grateful for this generous project funding from the CE LHIN. The iPads have been purchased to enhance the development of Coordinated Care Plans and improve the integration of primary health with other system providers of health care in our community. The availability of this technology will allow our Seniors Support Program clients to manage their healthcare services efficiently and effectively."
Sandi Bradley, the Recreational Therapist with DMHS' Senior Support Program adds, "Being connected with the iPads will help optimize our clients' well-being. In addition to having access to whatever interests them, they can download apps to develop skills to handle stress or manage anxiety. As well, they will be able to quickly and easily engage with their healthcare team and will receiving electronic copies of their Coordinated Care Plans, to review and to share with their family supports."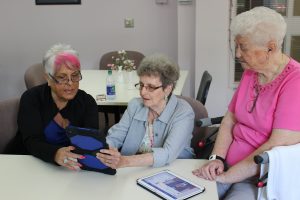 Vern, a Seniors Support client, says "The iPads are very fast and provide so much information. They are so easy to use. They will help us connect to our interests and also to our health supports."
Mary, a Seniors Support client, says "The iPads help to stimulate our minds and keep us engaged and connected to the world, whether for health reasons or for news or sports. We are going to find them very useful."
Heather Frempong, Coordinator of DMHS' Senior Support Programs says, "The iPads will help further the goal of the Senior Support Program – to help our clients effectively manage complex care needs. We are grateful to Health Links and to our two housing partners – Ajax Municipal Housing Corporation and Durham Non-Profit Housing Corporation. Clients are thrilled to have this new technology."
DMHS' Senior Support Program is currently operating at capacity.