The staff of Durham Pallet Services, the largest pallet facility in Durham Region, brought holiday cheer to DMHS residential clients by using the proceeds from a raffle to pay for a special holiday meal.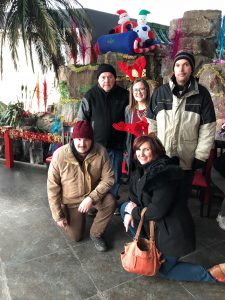 Owner Jason Nitchie explains, "This year, Durham Pallet Services decided to hold its first ever Christmas raffle, with a 55" TV as our first prize. We knew we wanted to donate all proceeds to a good cause, but didn't have anything set in mind.
"One of our employees, Bill, is a client of DMHS. A few days before the raffle, I took Bill out for a coffee and asked him what his plans were coming up for the holiday season. He told me his group home was going to all go out for dinner at the Mandarin – he was really looking forward to it. I asked him who pays for the dinner outing, he explained the cost is shared between the residents of the group home and the group home itself.
"At that moment, I knew where I wanted the proceeds to go to. Bill has been an excellent staff member who always cares about others and keeping Durham Pallet presentable. He is really easy to work with and always believes in team spirit.
"Bill takes so much pride in his work and, we wanted to show him that we take pride in him and appreciate everything he does."
When asked how it felt to be honoured in this way, Bill says "Proud and thankful. I love my job with Durham Pallet Services. I help in any way I can, and I get a lot of thanks for my work. It was great to be able to share this gift with my peers at DMHS."
Thanks to Durham Pallet Services for this generous gift!