"New Winds" are blowing at Durham Mental Health Services, as the agency's long-time Whitby-based day program gets a new identity.
Chosen by a client vote, the name "New Winds" captures the promise of positive change, hope and recovery that this peer-run program is designed to foster. The name also plays off of the name of DMHS' Ajax-based day program, "New Leaf."
Being peer-run is critical to the spirit and success of the program. "I think it helps our clients feel fully comfortable and at home in this environment," says "New Wind" Peer Support Specialist Donelle Latimer, "just knowing we've walked the same road of illness and recovery. Even having chosen the name as a group fosters that sense of community and shared experience."
For photos from the launch party, please visit https://www.flickr.com/…/126191794…/albums/72157658252370980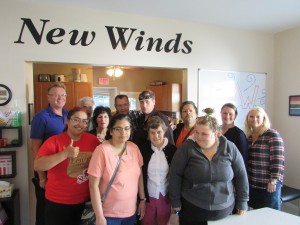 New Winds client Cheyanne spoke about how New Winds has added to her life. "I was referred by my DMHS Court Mental Health Support Worker. I had nothing to do during the day and was thinking bad thoughts," she says. "I felt really disconnected. When I started coming," she continues, "I immediately felt comfortable, like I was a part of one big group."
When asked what she enjoys about the program, she says "I like the group activities they offer, such as Art and Stress Management. I like the healthy food that is served. I like learning how to manage a household."
When asked what the program means to her, Cheyanne replies, "It's meant there's a safe place for me to go."
The location was extensively remodeled in preparation for this new launch. "I love the new renovations," says New Winds client Andrew. "For one thing, we have a larger table in the dining room which brings more people together."
Upcoming New Winds activities include a trip to the Peterborough Lift Locks/Peterborough Zoo as well as a first-ever on-site fashion show in October featuring clients modelling ensembles they put together themselves.
Upcoming Peer Support Specialist activities include a number of Mental Health First Aid workshops and a number of WRAP (Wellness Recovery Action Plan) series. See table below for more information.
Mental Health First Aid – Basic
September 29 & 30
October 7 & 8
November 11 & 12
December 2 & 3
Mental Health First Aid – Youth
September 22 & 23
October 21 & 22
November 24 & 25
December 8 & 9
Wellness Recovery Action Plan (WRAP)
Runs weekly from:
• September 14 to October 19
• November 2 to November 30
All MHFA sessions run from 9:00am to 4:00pm at DMHS' Whitby Mall Training Room (Lang Tower, Suite 202). The cost is $120 per person.
All WRAP sessions run from 2:30 to 4:30pm at DMHS' Whitby Mall Training Room. There is no cost.
For information about joining a WRAP series, please contact DMHS Peer Support Specialist Lisa Scuse at lscuse@dmhs.ca or 905-666-0831, ext. 3227.
For information about Mental Health First Aid or to register, please contact DMHS Peer Support Specialist Aubrey Andrus at aandrus@dmhs.ca or 905-666-0831, ext. 3228.