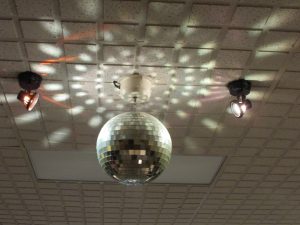 Whitby's Knights of Columbus Hall was set up in style on October 25 for Durham Mental Health Services' New Winds Day Program's 2nd Annual Fall Fashion Show. The Knights of Columbus very generously lent use of their facility for this special event and have offered this venue again for next year's 3rd Annual show.
For photos from this year's show, please visit: https://www.flickr.com/photos/126191794@N04/albums/72157675630777746.
The show was an opportunity for New Winds members to have fun, gain confidence, and show off their talents. In addition, it was a chance for members to choose fashionable clothing that accentuates their own sense of style without cost, since all the fashions on display were generously donated by DMHS staff and other New Winds supporters.
"People were nervous about doing it," says DMHS Peer Support Specialist Donelle Latimer, one of the event organizers, "but once they had walked down the runway, they came back with smiles on their faces and a sense of pride that they had faced down their fears and enjoyed the experience."
The event was entirely peer-driven: New Winds members chose their own wardrobe, prepared the food, and served as DJs and emcees. Those New Winds members who didn't model fashions came out as strong supporters of their peers.
"The Fashion Show is one of the biggest events on the New Winds calendar," says Peer Support Specialist and event organizer Lynn Moulds. "It takes a lot of preparation and planning, with clients contributing at every step. Clients were excited to hold the event at a bigger venue this year, with more opportunity to decorate and more of the feel of a formal occasion."
With the holiday season approaching, New Winds clients can look forward to attending seasonal celebrations without the worry of having to purchase fancy or formal dresswear. "Holidays can be really stressful especially for people on fixed incomes," Donelle notes. "This alleviates some of the stress and the cost and allows people to focus on enjoying the holidays."