On Tuesday May 5, 2015, at the Whitby Public Library, Durham Mental Health Services (DMHS) Voices Against Stigma Everywhere (VASE) program opened up conversations with the aim of reducing stigma during National Mental Health Week (NMHW) 2015 May 4 – May 10 by launching the Cathcart Series on Mental Health with speakers presenting their personal journeys.
The Cathcart Series ran for 3 days featuring 2 speakers each day who have lived experience with mental health and addiction issues. The VASE speakers are a dedicated group of individuals who openly share their unique stories of personal journeys of struggle, recovery and hope. Each speaker has faced diverse challenges with their mental illness struggles and openly share the details in order to spark conversations and answer questions so that we can all learn more about mental illness.
One of the speakers, Patti starts her story share with a memory back in her teens where she was so angry she verbally attacked her Dad. She was angry and her parents would describe her as a Jekyll and Hyde. She remembers her Dad's response at the time, he held her in his arms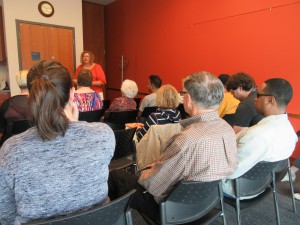 and comforted her by saying "I love you, you are so confused, you don't know what to do". Patti reminded the audience she was speaking to today, which included her Dad and her Grandmother, that mental illness can affect anyone or any family. It has no boundaries of wealth or privilege, can affect any type of person and no one is immune. It is a health problem. Talking about it rids the stereotype and stigma and makes people aware that there is help and treatment. There is Hope.
Although diagnosis came late at the age of 42 years old, Patti was relieved to have a name to her illness. Patti states "hope came to me in a diagnosis, and I realized much like diabetes my illness could be treated". The diagnosis for her also made sense of the struggles she had ensued for many years. She remarks, very intelligently and passionately, that she is always continuing to understand her own mental illness, her moods and effects they have on others around her. She is grateful of having a supportive family and is also grateful that she is able to help her Son who has recently been diagnosed with a mental illness. Even with new struggles life brings, Patti fully believes that "sometimes obstacles can make us stronger", and "Hope says it does get better".
Another speaker, Renee is proud to be part of this group of individuals who share their story. For her it is a chance to educate others and remind them that recovery is never a straight path, it goes up and down like life and with that there are many learning's. Renee remarked assertively "I don't like labels but they are helpful in seeking treatment and finding healthy coping skills". Renee was diagnosed at a fairly young age, just prior to her teens, and struggled throughout. She additionally opened up about personal trauma she had experienced and this made things even more difficult. She fully believes that learning new skills, having hope and optimism can help with positive changes. She encourages people to reach out for help when they need it. She also realized she is still young and there are challenges still ahead but feels stronger now thanks to the supports and assistance in her life. As well, her own found responsibility in her self-care, personal encouragement and awareness.
After intently listening to the speakers, the group of people who attended this Cathcart Series openly engaged in the question and answer period.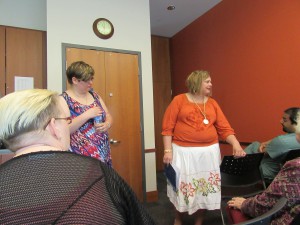 The speakers were proud standing up in front of a group to which they just opened up dialogue and conversation through sharing of their own stories. One very fitting comment coming from Patti's Dad who was in the audience, "With having an illness you need to have someone to walk with you for support, as with mental illness you cannot walk it alone." He also reminded people that "you have to come to personal responsibility when it comes to trying to get better…work towards own wellness".
DMHS programs and services are built on such collaborative relationships, driven by client need, and respectful of each client's right to self-determination. DMHS envisions a caring, supportive community able to respond to the needs of people living with mental illness. For more information please visit www.dmhs.ca
About the VASE and Cathcart Series on Mental Health
Voices Against Stigma Everywhere (VASE), a program of Durham Mental Health Services (DMHS), is a dedicated group of individuals with lived mental health and addiction experience who share their unique journeys with others. They often present to various groups of people in the community to open up conversation of mental health and reduce stigma around mental illness. Through sharing their stories they convey the message of hope. In their individual ways they do concur that "Hope is Essential".
The VASE program has now began a speaker series called the Cathcart Series on Mental Health. The launch of this series began during National Mental Health Week May 2015. The Cathcart Series is called such in honour and memory of a big hearted staff member of DMHS who encouraged people to speak about their journeys in order to help others. She wanted this type of education out there in the community so that people could recognize signs and get help early. She was a peer who influenced and encouraged people to share their stories. Sadly Sue Cathcart was killed in a motor vehicle accident, along with her Husband, in June 2014. It is through this program and speaker series that DMHS hopes to carry her efforts and wishes forward. We believe hope is essential.
Written by Christina Morino, PR and Communications Consultant for DMHS