On Thursday August 6, 2015 at Scott House in Ajax it was a beautiful day for hosting the Open House BBQ event for staff, residents of the home, friends/family and professional partners who help provide client care and support. Invited guests gathered in the large backyard of Scott House to celebrate the updates and changes to the home for clients transitioning to independent living or other supported living in the community.
Scott house is a two-storey home owned by Durham Mental Health Services (DMHS) in a lovely n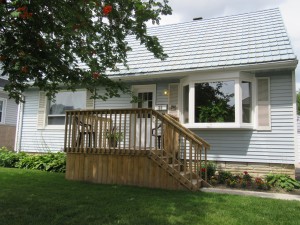 eighbourhood, and accommodates 4 people with long-term persistent mental health issues who are transitioning from Hospital to live a quality life in the community. It is supportive housing for individuals who generally have the ability to live independently, but do require some support. The residents of Scott House have 24 hour support available from staff. The average stay for a resident at Scott House is approximately 2 years, during which time they work on their individual client centered goals while receiving the client centered support they require. This Supportive housing program model is a successful partnership between DMHS and Ontario Shores Centre for Mental Health Sciences (Ontario Shores).
The renovations at Scott House coincided with the changes being made to increase the staff support available to clients in this particular housing program. Many improvements were made to the Scott house home recently to create a more comforting and warm space for residents to live while working towards their personal goals of recovery living in the community. Renovations included fresh paint, a new front bay window and new flooring, as well as new bedroom furniture for all four bedrooms.
"It is a welcoming, cozy and warm personal environment for clients to have as a home." stated Lisa Locke, full time Residential Counsellor for DMHS Scott House. "The new funding that has been received recently by us, DMHS, has allowed for clients to get more 1 on 1 support for many activities, even cooking. I have seen one of our residents in the kitchen more now than ever, as before he would be sitting in his bedroom. The interaction and enhanced support provided is much more healthy, helpful and essential for recovery."
The Provincial funding investment, presented in Spring 2015, through the Central East Local Health Integration Network (Central East LHIN) to DMHS and other community partners has allowed for expansion of innovative "wrap around" service supportive housing models like Scott House. The much needed funding will help a growing population of residents coping with mental health and addiction issues, supporting people, including seniors, to be safely discharged from hospital settings to obtain safe, accessible and secure housing within their communities. DMHS prides itself is the ability to offer such needed services assisting people with mental and emotional health issues to live their fullest potential in the community.
"We were pleased to be able to host this event to celebrate the reopening of Scott House giving guests and partners an opportunity to see our new home environment for our clients/residents." remarked Kereen Bennett-Martin, DMHS Housing Program Coordinator for Scott House.
Andrea, Diane and Kirk, staff from Ontario Shores who work in partnership supporting the residents to live in the community to their best potential, took time in their schedules to drop by for some BBQ treats, cake and a house tour. They were all impressed with the renovations and how welcoming and warm the house feels. They remarked that is so wonderful to know that Organizations in the community like DMHS are doing all they can to provide the best quality support for individuals living with mental health issues.
"This house is helping me live where I want to live and work towards being better, living better." stated a current resident supported in Scott House.
For more information about DMHS' Scott House Program, please contact Housing Program Coordinator Kereen Bennett-Martin at kbennettmartin@dmhs.ca or 905-668-0831, ext. 3254.
DMHS programs and services are built on such collaborative relationships, driven by client need, and respectful of each client's right to self-determination. DMHS envisions a caring, supportive community able to respond to the needs of people living with mental illness.
For more information please visit www.dmhs.ca
For photos from this event, please visit
https://www.flickr.com/photos/126191794@N04/sets/72157656700755958
About DMHS Scott House
Scott House is named after Durham Crown Attorney John Scott in honour of his work to help people with mental illness in the criminal justice system. The two-storey converted home owned by Durham Mental Health Services can accommodate up to four people and the target is people with long-term persistent mental health issues. The program has supports designed for people who have graduated to being more independent on their way to getting their own places eventually in the community. The idea is that people should be able to live in their community with success. While living in Scott House residents live family-style sharing cooking and cleaning duties.
Written by Christina Morino, PR and Communications Consultant for DMHS