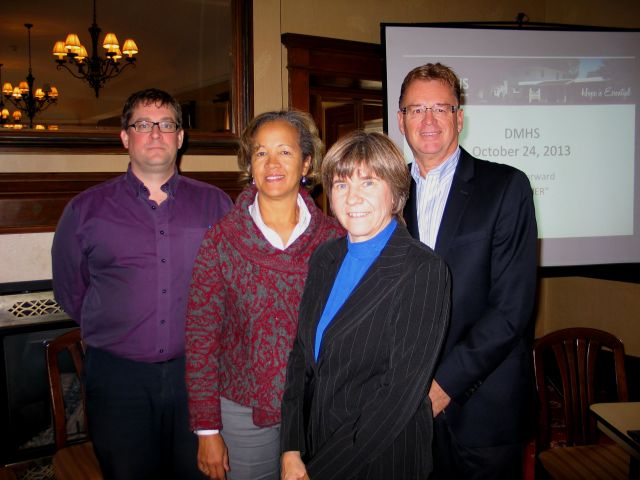 DMHS held a combined joint staff event and Annual General Meeting on October 24, 2013 at the Centennial Building in Whitby.   Repeat sessions were held in the morning and afternoon so that as many staff as possible could attend. Board member Kim Glover expressed the Board's thanks and appreciation to staff when staff and Board members came together for lunch.
The highlight of the day was the lunchtime key note address that was delivered by geriatric psychiatrist, Dr. Mark Lachmann.  Dr. Lachmann joined DMHS about two years ago, through sessional fees funding provided by the Central East Local Health Integration Network.  Besides practicing at the Rouge Valley Health System, he sees DMHS clients weekly at the Brock St. office.  Dr. Lachman praised DMHS staff for the work they do in supporting their clients; and how going that extra mile is normal for them.  He talked about how wonderful it is to work with an agency where the staff has such a genuine respect for their clients.  Dr. Lachman brings a unique and valuable perspective to his work with DMHS clients and staff, having worked for several years on Baffin Island.
The day was an opportunity to review and celebrate both ongoing DMHS work as well as the changes that have happened over the last year.  The Mobile Crisis Intervention Team (MCIT) talked about how they now have a much closer connection both with Durham Regional Police Services and the full range of DMHS programming, and how they are able to be both more responsive and effective in responding to community need.
Program staff highlighted their successes in in Housing; Peer and Family Support; Hospital to Home and Crisis Services.   The Health and Safety Committee closed the day by reviewing who they are, what they do, and how to use the reporting processes effectively to make DMHS as safe as it can be for everyone.