Approximately 40 DMHS stakeholders – including community partners, clients and family members –  gathered at Oshawa and District Shrine Club last Thursday to provide input into DMHS' Strategic Planning process as the organization develops its Strategic Plan for 2016-2019.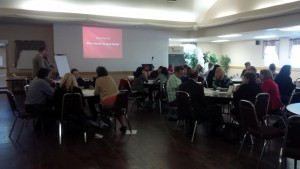 Six participant tables each with a mix of representation addressed four key questions regarding the quality of DMHS services, unmet needs in the community, and what DMHS does well and should continue doing. A combination of DMHS management and front-line staff helped facilitate brainstorming discussions at each table.
The session was led by Consultant Facilitator Barry Hyde, formerly of the Central East Local Health Integration Network. Barry Hyde has been a leader for many group planning sessions, including community consultations about the merger of CMHA's Lindsay and Peterborough Branches (now CMHA Haliburton Kawartha Pine Ridge).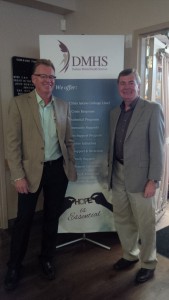 DMHS Public Relations and Communications Consultant Christina Morino states that, "When we did a wrap up at the end in the large group, with feedback from all the tables, it was surprising to find there was not a great deal of duplication with regards to the answers during the brainstorming at the tables. However, there was a great deal of input and brainstorming ideas brought forward. Overall the morning was a great success."
Participants remarked that it was a great forum and that they enjoyed having input. They also stated that it was a valuable networking opportunity as they learned about various resources and who does what in the community. Family members and clients were appreciative of the fact that their perspectives were invited and their input much valued. They are pleased that they will be kept informed going forward about the Strategic Planning Process and results.
 Christina Morino notes that "The questions used during the Strategic Planning session are also being emailed out to stakeholders who were unable to attend given we welcome all input to move ahead with the Agency Strategic Plan for 2016-2019. Next steps will be for all the input to be collated and a draft plan will be generated by DMHS which will also include more input from DMHS staff, clients and family group. Participants will be kept informed as the process moves forward."