The Sue Cathcart Mental Health Speaker Series, now in its second year, ran at the Whitby Public Library's Central Branch daily from May 3 to 5.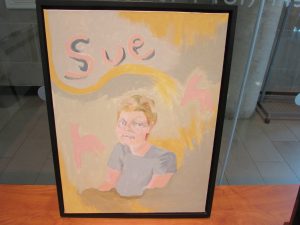 Each day, two speakers with lived experience of mental illness shared their stories of struggle and recovery, followed by a question and answer period. This year's event also featured artwork and photographs created by the speakers, along with some poetry as well. Each work of art was captioned with an explanation of what inspired the artist and what the work is intended to portray.
The event is named in tribute to Sue Cathcart, one of DMHS' first Peer Support Specialists, whose untimely death in 2014 hit the peer community hard. "This event is about everything Sue stood for," says DMHS Peer Support Specialist Michelle Rhude, "expressing ourselves, fighting stigma, offering hope and creating community."
 The event serves an important purpose in our society's emerging conversation about mental illness. "This event raises awareness about mental health and helps to reduce the associated stigma," says event organizer Aubrey Andrus, a Peer Support Specialist with DMHS. "This year we added client's artwork and photos to expand people's sense of what a person with mental illness is capable of. The artists are proud to share their work as they see it both as an expression of themselves and their recovery journey and as an opportunity to fight stigma."
 For photos from the event, please visit https://www.flickr.com/photos/126191794@N04/albums/72157665601277844.