On September 20, DMHS' Residential Support program hosted a celebration to honour and recognize one of our long-standing clients, Don. DMHS management and staff along with the outpatient support team at Ontario Shores Centre for Mental Health Sciences and Don's family all collaborated to make it a memo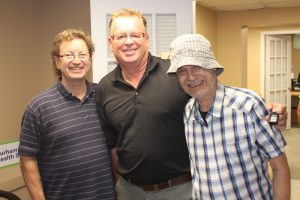 rable occasion.
 A commemorative book of photos and memories was compiled for Don, whose family enjoyed seeing him at different events over the years. While at DMHS, Don did book keeping for the agency and also did office work for Jim Flaherty during his time as MPP. His father was an original board member, helping steer the agency in its early days.
DMHS CEO Rob Adams explains, "When Whitby All Saints started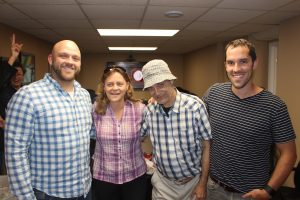 this journey over 30 years ago, their mission was to provide a home-like environment for their clients.  The relationship that has developed and been maintained between Don, his family and the many, many staff through the past 27 years is a strong indicator of the success and continued support of their original vision." He adds, "Don will always be part of the DMHS community and family."
Don was fondly remembered by staff such as DMHS Residential Counsellor Betty Mann, who said "DJ made the neighbourhood smile. Everyone liked him." DMHS Residential Manager Kereen Bennett-Martin added "I am very happy that I have been able to be a part of Don's journey at DMHS. The positive relationship that has developed over the years will always be remembered and treasured."
The guest of honour, Don, said, "It's been twenty-five years … I remember good friends and good times. For years I helped out with book-keeping and I really enjoyed that. I appreciate all the help I've been given.
Don's brother Andy added, "Thank you DMHS for all the support over the years."