Durham Region's Local Diversity and Immigration Partnership Council (LDIPC) has recognized Durham Mental Health Services as a Diversity and Immigration Champion.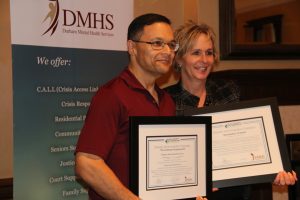 The LDIPC is a collaboration of diverse community sectors with four main objectives:
To create a culture of inclusion;
To support labour market attachment of newcomers;
To engage employers in attracting and retaining a diverse workforce; and,
To support two-way integration of diverse populations
The award was conferred because DMHS has demonstrated an awareness of and commitment to diversity and inclusion. It recognizes DMHS as "leaders in diversity and inclusion, contributing to a stronger, more inclusive Durham community."
"When organizations like Durham Mental Health Services put into practice the principles of inclusion through policy and procedure, they are contributing to building the kind of community we all want to live in," says LDIPC representative Audrey Andrews, Manager of Strategic Partnerships and Initiatives with the Regional Municipality of Durham. "Congratulations and we look forward to your continued leadership."
Specifically, the LDIPC recognized that DMHS proactively advances and promotes diversity and inclusion by:
Recognizing and appreciating the diversity of the community and providing culturally appropriate services and outreach;
Embedding a service approach that addresses the unique needs of each individual and values diverse life experience;
Respecting and celebrating differences through the Client Bill of Rights and Responsibilities and our everyday relationships; and,
Employing inclusive hiring practices that ensure the face of the agency matches the face of the communities we serve.
"We are thrilled to be recognized for our current practices," says DMHS CEO Rob Adams, "and see this an important step in building our capacity to support anyone with mental health challenges by respecting diverse backgrounds and cultures, and honouring the beliefs that are important to them as we help them work towards their own recovery."