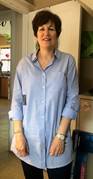 Lynn Moulds has been a member of the DMHS Peer Support team for almost five years. Recently, she was honoured by her colleagues and clients with a nomination for a Ontario Peer Development Initiative (OPDI) Lighthouse "Unsung Hero" award. We talked to Lynn about her important work and about this honour.
Tell us about a typical day in your work.
I'm one of 2 peer facilitators at our New Winds Day Program in Whitby, which runs from 10am to 2pm Monday to Friday. My day often starts at the grocery store, picking up items for that day's lunch – a healthy daily meal is a major part of what we offer our members. Once I arrive, my co-facilitator and I get the program set up for the day. The day may involve anything from educational and wellness presentations, to an outing in the community, to celebrations to mark occasions and welcome guests. As clients arrive, we spend time checking in and catching up. The work is really all about building up our members and establishing a strong supportive community for each "New Winds family" member.
Does all of your work directly involve New Winds Day Program?
No. In addition to one-on-one support for our Peer Support clients, I co-facilitate several other Peer initiatives such as the Music Group, the Whitby Social Group, Wellness Recovery Action Plan or WRAP training, and Recovery College in partnership with Ontario Shores Centre for Mental Health Sciences. The work has a lot of variety; I might help one client with job applications, advocate for another with the Housing tribunal, help a third with their medical appointments – plus I've helped a lot of people move to new housing. I also help organize big annual activities such as the fall fashion show, the Christmas gift shop, a cottage outing, and the BBQ cart.
How did it feel to be nominated for this special honour?
I was very overwhelmed – I didn't even know there was such an award. I'm honoured to do this job, and I get such rewards from the daily interactions with clients and colleagues. I never dreamed that the work that I do would be recognized by them in this way. I work with such an amazing team of Peer Support Specialists and other DMHS staff. It is truly collaborative work. I feel blessed to work for an agency that treats its clients and staff with such care and respect. Should I win this honour, it will be a shared award acknowledging all DMHS staff and clients for their amazing efforts.
Congratulations, Lynn!
To read the Nominating Form, please view the document attached.