Over the last several years, the recovery movement has transformed the way in which mental health services are offered. One important insight of this movement is the value of lived experience – that is, the wisdom gained through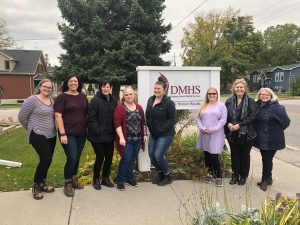 first-hand knowledge of mental illness and recovery. Peer support specialists use this first-hand knowledge – in combination with their professional education – to build uniquely supportive relationships with  clients who value the perspective of a worker who has walked in their shoes.
DMHS Peer Support Services are integral to the broad range of programming that we offer our community.
Peer Support Specialists facilitate both DMHS Day Programs, New Winds in Whitby and New Leaf in Ajax;
Peer workers are attached to a variety of DMHS programs, complementing traditional service delivery with this new way of relating to and supporting clients;
DMHS Peer Support Specialists play a leading role in community education, facilitating Wellness Recovery Action Plan or WRAP workshops in addition to both the Basic and Youth versions of Mental Health First Aid;
They also increase the community's capacity to support individuals living with mental illness by facilitating a 5-day WRAP Train-the-Trainer;
Peer Support Specialists run our Voices Against Stigma Everywhere consumer empowerment speakers' group; and
They offer educational "pop-up groups" – brief series of workshops on skills that can benefit clients, from coping strategies to overall wellness to social/recreational participation.
DMHS clients speak often of the special value of services delivered by staff who bring their lived experience of mental illness and recovery to their work. Clients have said that:
"Peer Support Specialists are personal and genuine"
"Peer Support Specialists provide empathy instead of sympathy"
"Peer Support Specialists are more understanding, and make me feel more comfortable about opening up"
"Peer Support Specialists have personal lived experience which allows for a deeper connection and makes me feel better"
"Peer Support Specialists have strong knowledge of supports, medication, and overall mental health"
Other clients have valued the choice in support options that the availability of Peer Support services provides: "It is important to me to receive support from someone that has lived with mental health problems, since they can relate to what I'm dealing with and they know first-hand what a crisis feels like. Also, having the different supports, you know which one to go to with the issue you need support for." Another client said, "I find it beneficial to speak to someone with legitimate experience because I feel that a peer would be more empathetic because they've lived it. They would understand and possibly help me brainstorm better ways to cope, as per their own experience and what worked for them."
DMHS Peer Support Program Manager Aubrey Andrus explains, "We listen to the needs of people who are working through mental health struggles, and offer individual services that will assist them in their recovery. Peer Support Specialists have a unique perspective, having their own experience of mental illness and recovery. In addition to directly providing services, Peer Support Specialists model hope and perseverance for individuals at any stage of the recovery journey."
Stewart Sutley, Interim CEO of the Central East Local Health Integration Network (LHIN), says "In the Central East LHIN we recognize that peer support is a key component of a responsive, recovery oriented Mental Health and Addictions system.  It is wonderful to see how these important services and supports have grown over the years, and how much benefit they have provided to People with Lived Experience and their Supporters.  The LHIN is honoured to be working with organizations in all of its sub-regions to better respond to the needs of local community residents so that they can live healthier at home."
On October 1, DMHS' New Leaf Day Program was recognized with a Lighthouse Award in the Innovators category from the Ontario Peer Development Initiative (OPDI). This Lighthouse Award celebrates innovation and collaboration in peer support service delivery. The award recognized the program's ability to meet the expressed needs and wants of people with lived experience living in West Durham. The award specifically noted the value of collaborations among DMHS, Community Care Durham – COPE Mental Health, and Lakeridge Health Oshawa's Ajax-based Assertive Community Treatment (ACT) Team.
OPDI Acting Manager Barbara Frampton says "Once an individual or a family realizes that being mentally well is no longer the status quo, the need for reassurance and answers can be overwhelming.  Peer support can be a cornerstone of that rebuilding process.  Each person with lived experience knows what it is like to start from a difficult time in his or her life.  By asking and answering your peers in a safe and welcome environment for expertise, you awaken self-awareness, grow self-care habits, and are surrounded with goodwill while progressing. New Leaf provides its members that safe and welcoming environment."
For more information on DMHS Peer Support services, please contact Peer Support Manager Aubrey Andrus at aandrus@dmhs.ca