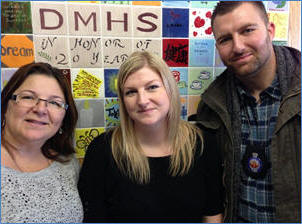 Police encounters with individuals in mental health crisis can be tense, unpredictable and potentially violent. Here in Durham Region, a partnership between Durham Regional Police and Durham Mental Health Services (DMHS) is helping to ensure that these encounters end safely and effectively.
Durham Region's Mobile Crisis Intervention Team (MCIT) consists of two Durham Regional Police officers working with a DMHS Community Mental Health Registered Nurse and a DMHS Case Manager. The team promptly assesses and supports "emotionally disturbed persons" – that is, people who are visibly experiencing a mental health crisis.
The MCIT averts escalation of the crisis (and injury to police, bystanders and/or the person in crisis) by providing interim crisis response support. They also link the individual to appropriate community services if follow-up support is advisable. Back-up support is provided by DMHS Crisis Services.
As the team arrives on the scene, the officer's role is to bring the situation under control while also checking the police database for any prior contact with the client. The officer also ensures the safety of non-police personnel who are present.
The Community Mental Health Registered Nurse helps the officer assess and de-escalate the crisis and, together with the officer, develops and implements a plan of action. The plan could include referral to the MCIT Case Manager for ongoing support, referral to DMHS Crisis Beds for immediate 24/7 support or referral back to the person's existing community supports. All supportive measures to remain in the community are exhausted before considering, as a last resort, hospitalization or incarceration.
Typical MCIT calls include responding to people actively attempting suicide, responding to family members concerned about a loved one's deteriorating mental health, or responding to individuals in the community who are unable to control their emotions or their actions due to mental illness or emotional upset.
One benefit of this specialized unit is that it frees up front-line Durham Regional Police officers and services so that they can respond to other calls. It also reduces pressure on the health system by decreasing unnecessary visits to Emergency Departments. A third benefit is that it links individuals with mental health issues to appropriate services and supports. The ongoing support provided by the DMHS Case Manager helps avoid the possibility of future police involvement.
"Police have recognized that we can't do it all on our own when it comes to mental health related calls," says MCIT officer Constable Scott Logan. "Working with DMHS has proven to be much more effective in securing short- and long-term support for the person in need. By diverting the client from the Emergency Room to community services, we save police time on the call, reduce the likelihood of future police contact, and most importantly, connect the client to the resources they need. "
Yolanda Diston, the team's Community Mental Health Registered Nurse, says, "Every day with the MCIT is a great day because I'm out talking to people who for the most part are looking for help and I'm in a position to get them that help. It's also an advantage to be working with a great team who support and back me up."
The members of the M.C.I.T. team share that their biggest challenge tends to be the high volume of calls and requests for service leaving them unable to attend as many calls for service as they would like.
For information or support, please contact DMHS' C.A.L.L. Centre at
1-800-742-1890 or 905-666-0483.