DMHS recently conducted a blitz of its program locations to spotlight the importance of good, regular hand hygiene. Hand hygiene is our number one defense against the spread of infectious illness.
Twelve DMHS locations were visited and thirty-two staff were audited to see if their hand washing habits passed muster. This was done by spreading Germ Glow Gel on a person's h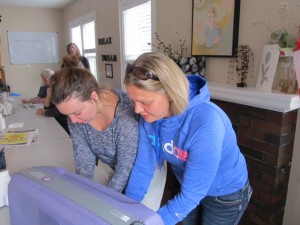 ands and having them wash them thoroughly. After washing, the hands were placed in a Germ Glow Blacklight Box, which shows up residue that is not visible to the naked eye. The sometimes startling results show just how important it is to give your hands a thorough scrub for at least twenty seconds, not forgetting to scrub the backs of hands, between the fingers and under the nails.
The blitz also audited twenty-two people who are supported by DMHS.
Mark Bouwmeester, co-chair of DMHS' Joint Health and Safety Committee (JHSC) says, "What a great kick off! We are thankful to the Durham Region Health Department for allowing us to use their Germ Glow equipment and for providing the information that we pass on to our staff and clients."
Remember that handwashing is the simplest and most important thing you can do to stop the spread of disease and to keep you from getting sick.
Mark mentions that DMHS' JHSC will continue doing spot audits.
 It is cold and flu season – let's all stay healthy!
For more photos from the Handwashing Blitz, please visit https://www.flickr.com/photos/126191794@N04/albums/72157660125643776.