Durham Mental Health Services' Hot Dog Cart ran successfully out of Whitby's Salvation Army Thrift Store location for two months this summer. The completion of renovations to Smith House and the establishment of the New Winds Day Program provided an opportunity to focus resources and attention on getting the hot dog cart operating after a break.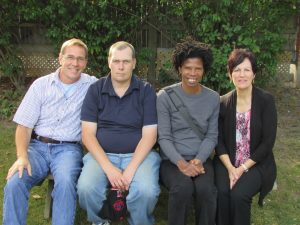 The hot dog cart is required to meet the same health and safety inspections and standards as would apply to any food-providing business. This process was made possible by New Winds participants and staff, who arranged that all requirements would be met, allowing the hot dog cart to be up and running by mid-July.
"A lot of details had to be organized to get the hot dog cart approved by the Region and operating again, especially given the fact that we were starting up again after a break in service," says Damon, one of the hot dog cart vendors.
Three New Winds Day Program clients were trained to be vendors. This involves setting up the cart at the location, cooking the products, serving customers, and closing up for the day. One of the vendors, Damon, was also involved in maintaining the inventory of fresh food and cold beverages.
Lynn Moulds, a Peer Support Specialist who works with New Winds Day Program, says "The hot dog cart gave New Winds clients an important pre-vocational opportunity and allowed them to earn some income. The same skills that would be required in any job – being on-time, maintaining a clean and hygienic environment, serving customers with a professional positive attitude, being task-focused and a competent team player – are required in working the cart. These qualities were also essential to the success of the cart."
Damon adds "I believe our success is measured by the experience DMHS clients gained in 'real life' employment-related responsibilities. I am thankful to DMHS for the continued support we received."
As this season's operations come to an end, the team is focused on building upon their success and on implementing new improvements in the 2017 season, expected to commence in May 2017.
DMHS would like to thank Whitby's Salvation Army Thrift Store for generously allowing us to operate our small business from their location.
Photo (L-R): Hot Dog Cart Operators Mark, Garrett, Jennefer and Lynn (not pictured: Damon, Marvin)