Earlier this year, Durham Mental Health Services presented a one-day Wellness Recovery Action Plan or WRAP workshop at the Pickering Public Library (PPL). The workshop was attended by both library patrons and staff.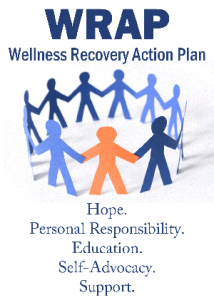 WRAP is a health-promoting process that anyone can use to get well, stay well and make their life the way they want it to be. It was developed in 1997 by a group of people who were searching for ways to overcome their own mental health issues and fulfill their life dreams and goals.  It is now used extensively by people in all kinds of circumstances, and by health care and mental health systems all over the world to address every type of physical, mental health and/or life issue.
PPL Digital Services Technician Michelle Bergeron attended WRAP as a member of the library's Work Well Committee, which was founded in 2014 to promote work/life balance and a positive work environment.
"We were the only library in Canada to take part in a 3-year case study of the Mental Health Commission of Canada's National Psychological Health and Safety in the Workplace Standards," Michelle says. "We've published articles about our experience of that 3-year journey. We really wanted to show that organizations of any size can benefit from implementing mental health and wellness standards.
"Providing onsite WRAP training was a way of continuing our commitment to psychological health for staff and for library patrons. The workshop was amazing. Like most people, normally I am not fully comfortable sharing personal things in a group setting, but the atmosphere during WRAP felt safe, positive and welcoming and I felt extremely comfortable sharing. While WRAP has value those who cope with chronic mental health issues, any person at all can apply the toolkit that we worked through to their everyday life and enhance their overall sense of wellness."
To learn more about WRAP or for upcoming dates, please contact DMHS Peer Support Specialist Donelle Latimer atdlatimer@dmhs.ca.