DMHS recently hosted an appreciation lunch for students who completed placements at DMHS over the past year.
DMHS accepts placement students in the Supportive Housing, Peer Support, Crisis Services and Family Support programs during all three semesters (September – December; January – April; May – August). Most students come from Durham College's Social Services Worker or Addictions and Mental Health programs, but we also hosted students this past year from Sir Sanford Fleming and Seneca College.
Julie Burnett completed her placement in DMHS' Family Support program. She says that "the best part was having such a supportive environment for my learning. Another thing that I really liked was that students had the opportunity to shadow any program that we had an interest in spending a day with. Also, the staff at DMHS were always friendly and welcoming to me as a student. It was just a really, really positive experience!" On a personal note, she added that "I find myself becoming more of an advocate for people struggling with mental illness. I'll find myself educating people wherever I can about mental health."
Eric Wei completed his placement at DMHS' Crisis Services location in Ajax. He says, "I believe that there really is nowhere else better to have conducted my placement. I feel more equipped to meet and to connect with clients on a comfortable level. I am better able to guide clients to services they need, whether at DMHS or in the community."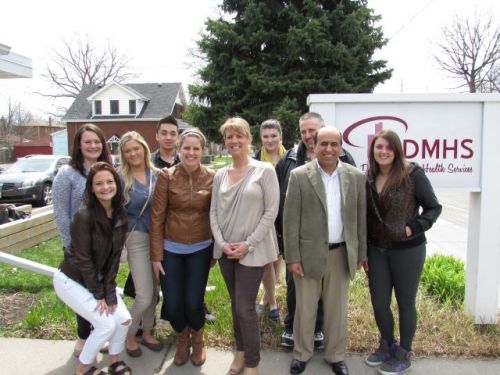 If you are interested in completing a student placement at DMHS, please send a cover letter and resumé to DMHS HR Coordinator Stacey Hummel at shummel@dmhs.ca.