Durham Mental Health Services (DMHS) held a Grand Opening and Ribbo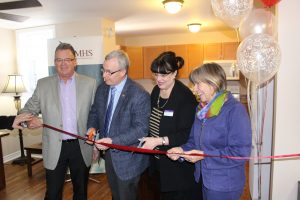 n Cutting Ceremony for its new Oshawa Crisis Beds location. Centrally located at 209 Simcoe Street North, Oshawa, this new six-bed crisis site complements DMHS' long-established crisis locations in Whitby and Ajax.
"On behalf of my colleagues on Council and the residents of Oshawa, it is my distinct pleasure to congratulate and welcome Durham Mental Health Services Oshawa Crisis House to the Oshawa community," says Oshawa Mayor John Henry. "It is reassuring to know an organization such as Durham Mental Health Services answers the call and provides support to our community members who are overwhelmed and having difficulty in their lives due to mental health issues. Our community is healthier because of your support."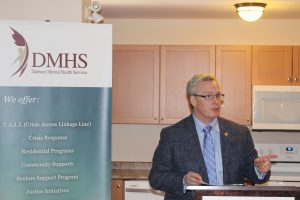 "I would like to offer the LHIN's congratulations on the opening of this new facility. With the support of the government of Ontario, we were very pleased to be able to provide the financial support for these community crisis beds," says Central East Local Health Integration Network (CE LHIN) CEO Deborah Hammons. "These beds are an important component of an integrated community mental health system and we have seen offering this important service in Ajax and Whitby has already made such a difference in people's lives. And now, this new facility and service in Oshawa will continue to make a difference in the lives of those local and Durham Region residents who are dealing with a mental health crisis."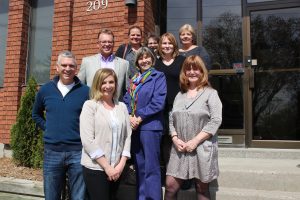 "We are pleased to be able to support our partners at Lakeridge Health Oshawa," says DMHS CEO Rob Adams, "through our Hospital-to-Home program and now by giving clients an option other than admission to hospital when they are experiencing distress."
Oshawa Crisis residents are supported during their stay by a multi-disciplinary team of health professionals, including Crisis Services Workers, Peer Support Specialists and Registered Practical Nurses. This staff mix makes a stay at DMHS Crisis Beds a safe and comfortable alternative to hospitalization for many people seeking help.
The typical stay is three to five days but extensions are possible, depending on circumstances.
Anyone can refer – many referrals come from other community services or from local hospitals. No special credentials are required however – referrals can be self-referrals or come from family members or other natural supports.
Rob Adams notes that "In 2017, DMHS Crisis Services fielded over 23000 calls, mobile visits and bed stays from individuals in crisis. Thanks to generous funding from the Central East Local Health Integration Network and to the support of our valued partners, we are now increasing Durham Region's capacity to respond effectively to this demand."
For more information or to enquire about a bed, please call DMHS' C.A.L.L. (Crisis Access Linkage Line) at 905-666-0483 or toll-free 1-800-742-1890. For more photos, please visit https://www.flickr.com/photos/126191794@N04/albums/72157680153423703.