The South East Local Health Integration Network is redesigning mental health and addiction services across their region, which includes Kingston, Belleville and Perth.
To launch this redesign, they recently hosted a Visioning Day, inviting healthcare and community representatives including speakers from Durham Mental Health Services' consumer advocacy group V.A.S.E. (Voices Against Stigma Everywhere).
V.A.S.E. is a team of individuals who have experienced mental illness and who are now educating the public and the healthcare system about mental illness and recovery. V.A.S.E. was represented at the Visioning Day by speakers Mike Miller and Renée Parratt.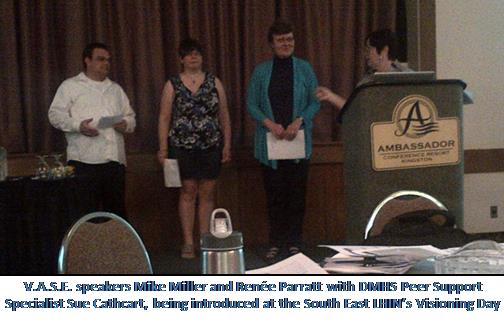 "The experience was absolutely amazing," says Renée. "The South East LHIN are working towards concrete and effective system improvement and they are very inclusive and respectful of consumer points-of-view."
Mike was also gratified by the level of respect for consumer perspectives. "The points we made in our speeches at the beginning were referred to and integrated into the visioning process throughout the day," he says. "It will be exciting to see how the visioning process now underway leads to improved services for individuals who experience mental illness or addiction or both."
"The experiences shared by the V.A.S.E speakers were inspiring for all of the 180 attendees of the Visioning Day," says Sherry Kennedy, Chief Operating Officer of the South East Local Health Integration Network.  "By using their personal journeys, the speakers helped the attendees to understand the value of this work we are undertaking, how we can make a difference in people's lives and that many opportunities exist for improving how Mental Health and Addictions services are delivered here in the south east.  The speakers served to ground us as we began the conversations that will lead to an improved mental health and addictions system in the south east – one that is designed with the client's need as the focus."