Durham Mental Health Services recently concluded a Food and Support Drive to benefit John Howard Society of Durham Region's (JHS Durham) Women's Drop-In Program.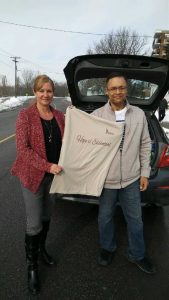 JHS Durham's Women's Drop-In Program is designed to support women involved in sex trade work within the Durham Region.
This service provides:
Individual counselling & support
Advocacy with health providers, probation, Police, Ontario Works, and others
Community education to other community groups on the realities of sex trade work in Durham
Referrals to other resources
In addition, the Women's Drop-In Program participates in the Sex Worker Support Circle committee to strategize on programming for sex workers and engages the community to address the challenges of the sex trade in Durham.
This service also provides a weekly drop-in program in a safe, supportive environment. The drop-in offers nutritious meals, hygiene products, laundry, shower, counselling & support, safety planning and harm reduction supplies.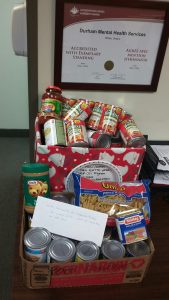 DMHS' Food and Support Drive collected items such as non-perishable food, gift certificates for local grocery stores and hygiene products from agency staff over the holiday season. A number of families connected to DMHS services also generously contributed.
DMHS Program Coordinator Katie Sansom, who organized the drive, says, "I would like to extend a very special thank you to all DMHS staff who participated in the Food and Support Drive, as well as the DMHS Family Support Group for their enthusiastic participation. There were numerous food items, hygiene products and gift cards donated to the Women's Drop-In Program, which will assist with the women's needs significantly. The Women's Drop-In Program is such a needed resource in the community, for some of our most vulnerable residents. It is wonderful to know that so many of you at DMHS, out of the kindness of your hearts, took the time to help out. Thanks to everyone for making this a great success!"
Beth Whalen, Coordinator of Harm Reduction Services at the JHS Durham says, "Then Women's Drop-In program sincerely thank the staff of Durham Mental Health Services for their kind donations through their food drive initiated by Katie Sansom in December. Your generosity is greatly appreciated by the stigmatized and marginalized ladies who utilize these services as well as the staff involved. Your donations will help to keep this badly needed service able to provide a good healthy meal each week for some months to come." 
For more information about JHS Durham's Women's Drop-In Program, please contact JHS Durham's Harm Reduction Coordinator Beth Whalen at 905-579-8482, ext. 253.