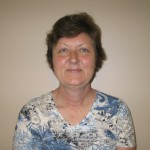 Dozens of colleagues – including DMHS clients, staff and supervisors – gathered on Friday, September 26 to pay tribute to the life and legacy of Sue Cathcart, a DMHS Peer Support Specialist who was tragically killed in a motor vehicle accident this past June.
Sue was remembered as a cheerful and hard-working colleague and as a tireless advocate for the less fortunate – in particular, individuals who experience serious mental illness.
Mark Bouwmeester is a DMHS Program Coordinator who supervised Sue for over three years. "Sue was a strong advocate for everybody," Mark says, "but her heart went out the most to people who seemed to be forgotten by the system, or not supported to its full capacity." Mark was particularly struck by Sue's natural, unaffected manner, regardless of whom she was dealing with. "Sue treated everybody exactly the same – whether she was speaking to an Executive Director or a client or to someone she was meeting for the first time. She always extended respect, offered hope and challenged the system."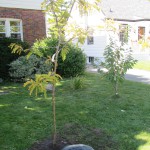 In Sue's honour, a starburst locust tree was planted in the yard of the home office she worked out of. Mark explains that this tree is known for its beautiful leaves and for the way it spreads out widely, thus reflecting the beauty of Sue's personality and her ability to reach out to touch people in a very special way.
Sue worked on a team with fellow Peer Support Specialist Lisa Scuse. "I had the pleasure of working with Sue for over six years," Lisa says, "first, as her field placement supervisor and then as a co-worker in the Peer Support program. Sue's passion for supporting people and passion for making change were admirable. She genuinely cared about people and she devoted her career to making sure that every person she supported felt comforted and cared for. She was one of the hardest working people I have ever met and we all miss her greatly."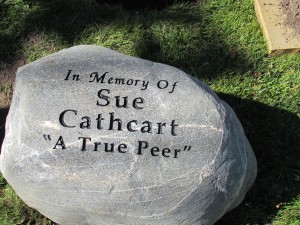 For more photos from the memorial ceremony, please visit https://www.flickr.com/photos/126191794@N04/sets/72157648162632862.