Last week, DMHS staff capped a year of milestones and accomplishments by gathering for an all-agency information and staff recognition session at the Oshawa and District Shrine Club.
Executive Director Rob Adams drew attention to several outstanding accomplishments over the past year, including:
Accreditation Canada awarding DMHS its highest honour, Accreditation with Exemplary Standing, an extraordinary accomplishment for an organization completing its first accreditation cycle
Accreditation Canada also recognizing the DMHS-Rouge Valley Health System Community and Hospital Collaborative Crisis Services Model with a coveted Leading Practice Award
Durham Region Health Department recognizing DMHS' commitment to health and safety with a Healthy Workplace Award
The Mental Health Commission of Canada conferring a National Mental Health Award on Durham Region's Talking About Mental Illness (T.A.M.I.) Coalition, of which DMHS is member, alongside other local mental health organizations, school boards, youth services and consumer spokespeople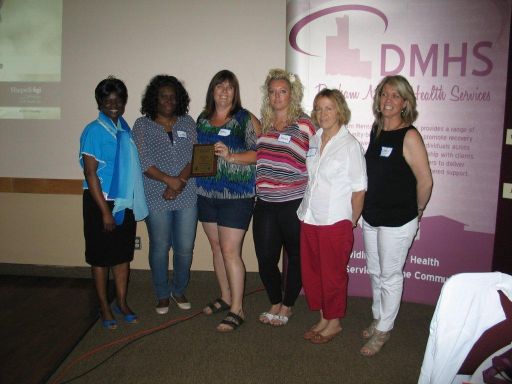 Program Director Sheri Rice previewed some major projects for the coming year, such as increasing our capacity to serve clients with both mental health and addiction problems (Concurrent Disorder) and revamping agency promotion, including beginning to use social media.
Twenty DMHS staff were recognized for reaching service milestones – 5, 10, 15, even 20 years of dedicated service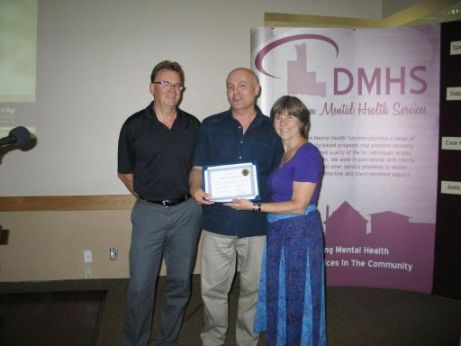 DMHS' new Employee Assistance Program, Sheppell·fgi, did a presentation to ensure that agency staff know about the free and confidential counselling services available to them and their families.
It was a great chance to celebrate with colleagues and reflect on recent accomplishments and near-term goals. Italian to English dictionary