In 1987, Durham Mental Health Services opened its doors as single supportive housing location serving eight residents. Now thirty years later, on Thursday, November 16 the agency celebrated its growth into a large and diversified leader in local community mental health support with special guest keynote speaker Michael "Pinball" Clemons, who delivered a powerful message of hope and perseverance through adversity.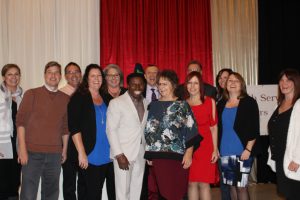 Staff, clients and supporters of DMHS celebrated together with Whitby MP Celina Caesar-Chavannes; Oshawa Mayor John Henry; Whitby Councillor Michael Emm; and Central East Local Health Integration Network board member Aileen Ashman.
In addition to long service awards for many DMHS staff, two awards were presented. The Sue Cathcart Peer Recognition Award went to Stephen James for exemplifying the spirit of recovery. The Blake Garvey Memorial Award of Appreciation went to local Knights of Columbus president Doug McLean, for his decades-long service to individuals who experience mental illness.
"This is a day of celebration," says DMHS CEO Rob Adams, "as well as an opportunity to recognize our staff, partners and funders. It is also a time to reflect on the work that remains to be done in challenging stigma and building our community's capacity to serve individuals and families in need."