DMHS recently partnered with Camp Samac to provide training to their summer staff about working with the public on mental health.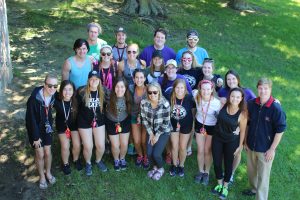 The two-hour interactive session addressed mental health and stigma; described the most common signs of a mental health issue; provided tools for helping a person manage strong emotion such as anger, sorrow or shame; practiced positive communication; and offered guidance on how to link a person to professional mental health support, including DMHS Crisis Services. 
Camp Samac's Summer Program Director Brittney Forester explains the rationale behind this important training. "Our program offers outdoor adventure opportunities for youth 5-16 years old and we see over 1,100 participants in just two months each year. The session from DMHS was a new component of our training program. We know how to respond to physical health emergencies; this training helps equip us to respond if and when our participants experience troubled thoughts or emotions."
Brittney adds, "David, our workshop facilitator, was so incredibly engaging and truly made an effort to ensure all staff felt comfortable in this learning environment. His positive energy and knowledge on the topic captivated our audience, and the information was tangible for all members regardless of their previous experience with mental health content. We certainly hope this partnership continues in the future."
For information on this or any other DMHS public workshop (including Applied Suicide Intervention Skills Training [ASIST] and Mental Health First Aid), please contact David Clarke at dclarke@dmhs.ca or 905-666-0831, ext. 3242.