Tyler is 27 years old and lives in Whitby with his family. He has a diploma in Business Administration and Accounting from Durham College, and plans to return to UOIT in September to get a Bachelor's Degree in Commerce. He is learning how to play keyboards and volunteers with the Canadian Society for Social Development. At age 15, Tyler was diagnosed with a severe anxiety disorder. This illness has been a constant in his life ever since. With the help of DMHS Case Management and Ontario Shores Outpatient Services, he has been making great strides back to health. Here is his story.
Tyler's Story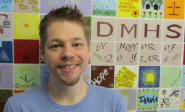 When I was first diagnosed, the doctors weren't sure if something was wrong with my heart or if I had a mental health issue. I was out of school for the first year after my diagnosis – going from specialist to specialist, hospital to hospital, for a battery of physical tests. It took several months for the doctors to determine that it was a mental health issue.
As result, my family doctor prescribed me Paxil and connected me with the Shoniker Clinic (RVHS) for talk therapy. I stayed on Paxil for seven or eight years.
During this time, my anxiety was getting worse. I didn't leave the house. I was depressed, lethargic, totally unmotivated even to get better in any way. My parents were concerned that I
was suicidal and took me to Rouge Valley Centenary Hospital where I was admitted for inpatient support.
After discharge, I made a graduated return to high school, starting with one class a day. My Mom would wait for me in the parking lot the whole time in case I felt a need to escape. But I was able to stick with it. The next year I went back full time and the following year I graduated with my high school diploma and applied to Durham College.
The College was really great – they have a Centre for Students with Disabilities. There is a specialized test centre where you can write tests and exams in a private setting. They also have advocates who can help you get appropriate accommodations for whatever disability you are dealing with.
For the first two years at Durham College, I managed the course work well but outside of class, I was very disconnected – no activities, no relationships beyond my family. Towards the end of my second year, things started to spiral out of control.
It became very hard for me to get out of the house and get to campus; tests and exams became extremely anxiety-inducing. Everyone is nervous before a test, but with me, it disrupted my entire week – constantly checking my pulse, sweating, isolating myself in my room. Things were getting really rough. I was barely able to complete third year, and only with a lot of support from the Centre for Students with Disabilities.
After finishing college, I applied to UOIT and was accepted. After the first semester, it had proved to be too much – getting to campus, taking tests – I felt overloaded. I dropped out of all my classes.
I went to my family doctor and said "I need more help." I felt that nothing I had tried until that point was working. My doctor referred me to CAMH, but they could only offer me one out-patient session per week. Given the drive to Toronto and the severity of my agoraphobia at that point, this was a totally unrealistic option.
At this point, my Mom started getting in touch with local mental health services. She found out about DMHS and arranged a referral to case management. She was feeling spent, at her wit's end, concerned about me and desperate to see me get my life back on track.
At first, most of the contact with DMHS was through my Mom, but my case manager Chris Self made it a rule that I communicate directly with her. This was a challenge for me but it started fostering my independence.
Gradually, step-by-step, Chris helped me get comfortable with, first, leaving my room, then going outside, then going for a drive, and eventually actually going shopping and spending time in the community. This was an important part of my road back to health.
Chris was able to connect me with psychiatrist Dr. Ledger, who put me on more effective meds. She also put in a referral to Ontario Shores, to get me a permanent psychiatrist and to join the Employment Support program. The Employment Support program created too much stress, too much anxiety – it felt like the next logical step but I'd bitten off more than I could chew.
I ended up getting linked with Ontario Shores' Outpatient Program. This connected me with a permanent psychiatrist, a nurse, and a case manager. I took Cognitive Behavioral Therapy and Dialectical Behavioural Therapy courses.
Things didn't improve at this time. I was taken off all my medication and I completely shut down – isolating myself from the outside world, not taking care of my hygiene, having regular panic attacks, feeling suicidal. My life had become unlivable.
My Mom called Chris to say "Tyler needs your help."
Chris advocated for me to get back on medication, which helped reduce my symptoms and made my daily life more manageable. I continued seeing my case manager at Ontario Shores. Being connected with both DMHS and Ontario Shores means I know I can get support when I need it. They have both helped me take an active role in my own recovery.
Things have been getting much better for me. I met a girl through an Anxiety chat room. We made a connection and I flew on my own to Chicago to meet her. This would have been unimaginable any time over the previous twelve years.
I'm taking better care of myself and I've lost over 50 pounds.
I continue attending DMHS Wellness Groups. I've gone from a silent participant to being able to get up and speak in front of the group. I'm building relationships with the fellow members of the group. The Christmas Party was great fun!
I've gotten to the point where anxiety doesn't interfere with my daily routine. I feel like I'm on my way to living the life that I always knew was possible. For the first time in a long time, I have a positive outlook on the future.
I'm very thankful for all the hard work everyone at DMHS and Ontario Shores has put in to help me get to this point in my recovery.