Shawn is a 37-year-old who enjoys listening to music (Metallica) and playing video games (Halo). He lived in Scarborough until he was ten years old and afterwards lived in Pickering. He experienced anxiety from a young age and isolated himself in the family home. After his Mom passed away in October 2012, Shawn was on his own, unsure what to do or where to turn. Here is his story.
Shawn's Story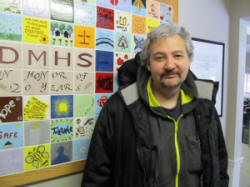 In high school I was always bullied a lot. I was quiet and shy and so they picked on me for that. I guess I didn't have the right clothes to be cool at school. Because of the bullying, I skipped a lot of school and stayed at home listening to music.
I left high school in Grade 10 and withdrew to my room. The majority of the time I stayed in bed. Ultimately, I spent the next couple of decades isolated, with very few contacts outside of the family home.
In my late twenties, my Mom found me a job at Metro grocery store. At the time, I was depressed and anxious. I felt like people were staring at me and talking about me, so I quit shortly after starting. They gave me a second chance, but after a short try, I said, "No, I can't do this" and quit.
After that, I went back to secluding myself in my room.
I shared the family home with my Grandmother, my Uncle and my Mom. My Uncle passed away when I was 15. My Grandma passed away when I was about 27. Finally, my mother passed away in October 2012. These were all the people I knew in the world.
My Mom's health had declined both physically and mentally during her last years and she no longer took care of the home as she once had. By the time she passed away, the house was in really poor shape.
Because she passed away at home, emergency services arrived and were alarmed about the condition of the home and concerned about my welfare. They contacted DMHS Crisis Services and a worker Roxanne Seaward called me to arrange a meeting. I didn't return her calls at first but she was persistent and kept calling. She didn't give up on me. Eventually I agreed to meet with her.
I told her the situation – a lot of money was owed on the house and I was not going to be able to live there much longer. She helped me find a clean, affordable room in Pickering. She set me up with a grief counsellor, found me a family doctor, and started my application for ODSP. That was the first I had even heard of ODSP. Roxanne also connected me with the psychiatrist Dr. Lachmann.
Roxanne helped me apply to DMHS Supportive Housing. Within just a few months of applying, in July 2013, I had secured a place at McKay House.
I found McKay House a very supportive environment. The staff were always available if I needed someone to talk to. My confidence improved and I decided to return to school after over 20 years. I didn't have any daily living skills when I moved in but I have learned them with the help of McKay House staff. I was much happier at McKay House than I had been previously. I smiled more than I did before.
I did well enough at McKay House to move to Sims House just last week. I miss McKay House but I think Sims House will grow on me. The staff have been friendly and helpful. Julia is very funny.
I plan to finish off high school and then maybe enroll in some courses at Durham College. I couldn't have imagined doing that before I joined DMHS Supportive Housing. Eventually, I will move back out on my own and will be glad to have the support of DMHS Case Management – maybe even Roxanne again!
I feel grateful to DMHS for helping me out so much.