Phuong came to Canada from South Vietnam with her family when she was nine years old. She loves cooking and is working on finishing her high school diploma. Diagnosed with bipolar disorder at age seventeen, Phuong spent eight years in psychiatric hospitals. Today, with the help of DMHS and Ontario Shores Centre for Mental Health Sciences, Phuong looks forward to fully independent living. Here is her story.
Phuong's Story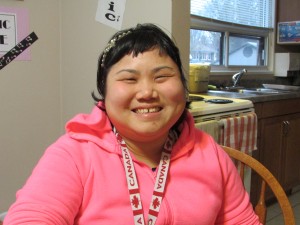 My family moved from Ho Chi Minh City to Montreal when I was nine. By age ten, I moved with my Mom and little brother to a woman's shelter due to problems at home. We eventually moved to North York.
My family grew concerned about me as I had an explosive temper. They took me to St. Joseph's Hospital in downtown Toronto where I was diagnosed with bipolar disorder at age 17 and treated with medication. I still lived at home, but sometimes I got so upset, I would go to live in a homeless shelter.
Between age 17 and age 21, I bounced between staying in homeless shelters and living at home. At age 21, things took a downward turn for me. I was living at my Mom's house but had spent time in various psychiatric hospitals due to my bipolar disorder. Eventually, I was charged with assaulting a man in my Mom's apartment building and also assaulting the manager of the building.
I spent time in Vanier Correctional Centre for Women until I was eventually discharged to the Centre for Addiction and Mental Health. From there I went to Ontario Shores.
I spent eight years in total in the hospital. At one point, I was discharged but brought back to hospital due to vandalism – I had been living at a group home at the time.
In 2015, I learned about Durham Mental Health Services' Transitional Rehabilitation Housing Program while living at the Annex in Ajax. It seemed like a good fit for me. There were many fewer people and more of an opportunity for independence. I've learned how to cook on my own and to keep my room tidy. I do daily chores – I treat the home like it was my own apartment. I manage my own finances and make it last the whole month. I've learned how to pay the rent.
During the day, I go to Ontario Shores' Supported Education Program. I also keep regular psychiatrist appointments. I've been stable on my medication for three years now and have had no relapses. I look forward to staying out of the hospital. I've made good friends. Life is good but I would like to have a part-time job, finish my high school diploma, and get my own place.
I enjoy sharing my story. I've appeared in Ontario Shores' Annual Report and I was on the cover of one of their Strategic Plans. I'm also on an Ontario Shores bookmark and was in an Ontario Shores Prom video too. My whole point in doing these things is to get rid of the stigma around mental illness. If I'm stigmatized, my friends will be stigmatized too.
I am proud of myself for not relapsing for three years straight and I love my freedom. I want to be a role model for others to show you can do it; you can get out of the hospital, get back to the community and get your freedom back.
DMHS staff have been very helpful. They make me laugh and smile every single day.