Mark is a former 25+ year GM employee who grew up in a close-knit family. He has three children and was very active in the community as a Scout leader and sports coach. Problems with alcohol and drugs threatened to destroy his life but, with the support of DMHS Crisis Services, he has been turning his life around. Here is his story.
Mark's Story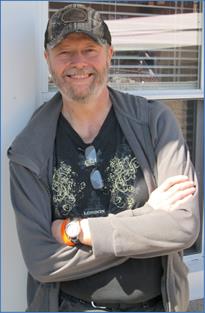 From age 12, drinking had always been a way to relax and socialize but as far as becoming addicted, I didn't even see the ball coming before it was in my glove, so to speak. And the first time someone told me, "Mark, I think you have a drinking problem," I was frustrated and angry and in total denial.
But I did try to scale back my drinking, including going to a rehab centre. I thought the problem was under control but the real problem was, when it comes to drinking, for me there is no control. The problem got progressively worse.
First of all, my health started to deteriorate – having seizures, for example. Then the mental part hit me – I got severely depressed and wanted to die. Every time I made things better, I would relapse and things would get worse than ever. Eventually, I lost my job due to drinking and it contributed to the break-up of my marriage.
Trying to live life without alcohol has been a real struggle. But I realized this January, while lying in a hospital bed – with damage to my liver and my kidneys – if I am going to have any future, I need to get drinking totally out of my life. That's when I picked up the phone and called DMHS, from Pinewood Detox.
If I try to go back to my old ways, it would be the end of me. So I'm ever diligent on trying to begin a new life and I plan starting that new life when I get my partial pension once I turn 55 next year. In the meantime, I getting involved in all kinds of activities, staying out of Oshawa (priority number one), learning and applying new coping skills – basically, re-teaching myself how to live an alcohol-free life.
The help and support that I've got here at Durham Mental Health … I'm overwhelmed. I can't stress enough the guidance and support they've given me. I've been crying tears of joy – that's what this place has brought me. They revitalized my hope for living. I had given up when I arrived. I didn't think all the king's horses and all the king's men could put me back together again. I was thinking, "If I go to sleep and don't wake up, that would be alright." Whereas now I wake up and say "It's great to be alive" – that's what this place has brought me. I'm looking forward to a bright and alcohol-free future.