Greg G. is a resident of Toronto who likes to act, sing, and play guitar. He has worked at Jack Astor's and has also appeared in commercials for CP24 and Viagra.  In the summer of 2013, Greg began to experience psychosis. Since then, with the help of Rouge Valley Health System and DMHS Crisis Services, he has been working to restore his health. Here is Greg's story.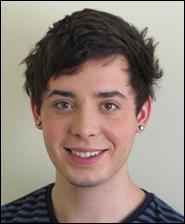 I grew up in Ajax. Life at home was difficult and I moved out on my own at age 13. I spent time living with a friend and also spent time in a youth shelter, Joanne's House. While at Joanne's House, I did a project on the shelter – interviewing employees, doing a video of the house, sharing my own story – and won them $5000. After Joanne's House, I got onto Ontario Works and moved into White Oaks Apartments. An opportunity came up to move in with a friend in Toronto and so I moved there.
I was healthy during all this time but last summer, I began to experience psychosis. I started hearing voices, as many as 15 different voices at one time. I had scary visual hallucinations – for example, seeing my face warp into other shapes in the mirror. I ended up retreating into my own world.
My roommate noticed my health was deteriorating, as I would spend hours at a time speaking back to the voices in my head. He contacted my father to let him know I was unwell.
My father took me to Centenary Hospital but I was discharged after eight hours because I was able to hide the fact that I was ill. I went back to my apartment still very ill and ended up trashing it in a confused state. My roommate called the police who were very understanding and took me to CAMH, where I stayed for two months. I received injectable medication because I refused pills, but I still didn't get any better. For example, I found it very difficult to communicate, just agreeing with whatever people would say.
From CAMH, I went to Ontario Shores where I stayed for four months, but still my health did not improve. I left against medical advice, moving back to the community. I was struggling to cope with my illness and ended up overdosing on medication. As a result I was re-admitted to Centenary Hospital and eventually discharged to DMHS Crisis Services, with the help of Hospital-to-Home worker Gord Radford.
My first encounter with Crisis Services did not go well. During admission, I kept hearing voices saying they were going to come and kill me. After just 20 minutes, I took off and ended up in downtown Ajax naked. The police took me back to the hospital.
My next stay went much better. Crisis Services staff welcomed me with open arms. Despite being sick, I felt very safe, regardless of what the voices were telling me. I chose to stay on my medications and continued to see my doctor. I also worked with the Crisis Staff on wellness plans and coping strategies.
At times, I was overwhelmed by my illness. Generally I lacked emotion, but at one point I broke down crying, asking staff "How do people cope with this?" Staff continued to support me, connected me with case management and peer support and helped me with an ODSP application. I trusted the Crisis staff enough to have them join me at psychiatrist appointments.  I was making progress but had setbacks as well. My doctor readmitted me to hospital to try a med change.
At this point, I started recovering. The med was working really well. I started hearing many fewer voices and the ones I did hear bothered me less. Instead of them being intrusive, they became like a TV in the background that I could easily filter out. I started communicating better and started to socialize again. I even started working on job applications.
Now I am feeling great about my future. I am ready to put psychosis in my past. I'm moving back to the community, staying with a friend. At one point, I felt hopeless. It's been a rough year but things are getting much better.
I now know and want others to know that it takes time and a lot of effort but at the end of the day, if you accept help, you will get better. I'm comforted to know that I will always have DMHS services to fall back on if I need support.