Bobby is a successful athlete and businessman whose life was almost derailed by addiction to alcohol. Today, with the help of DMHS, Bobby is thriving once again. Here is his story.
I grew up in Altona, Manitoba – a small Mennonite farmer community, affectionately known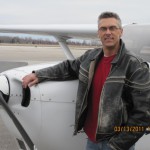 as the Sunflower Capital of the World. So I was a farm boy with a Mennonite upbringing, and with a very dysfunctional father. I never knew my father at home. My father had schizophrenia and for most of his life was in institutions. I was raised my mother and my grandparents to the age of 8.
My mother was very ill. I didn't know it at the time, but to deal with stress and other pressures she relied on 222's (codeine) – she would sleep a lot, so it was left to me to care for my brothers – feeding them, taking care of the laundry, cleaning the house. On several occasions, my mother was put into hospital and my brother and I were placed in foster homes while she recovered.
At the age of ten, my mother left – never to return. My brothers and I were split up to live with aunts and uncles. My way of coping with the changes was athletics, which over the years led me to train for the Olympic Games – the 400m dash for the '88 Olympics; triathlon for the '2000 Olympics, where I was a member of the Canadian Olympic team.
At this point, I had been married about nine years, with two children, and running my own company, Sounds Good. We build custom home theatres and automation systems. At this stage of my life, I was unable to train or to pursue athletics like I had done, and so to deal with the stress, I chose to have a drink – to relax. I never drank socially, I drank for the sole purpose of relaxing – to feel the buzz. And over the next 14 years, my drinking led me to some very low places.  I was a blackout drinker and when I blacked out I got very verbally abusive towards my wife, who by the grace of God is still with me 21 years later. Due to my drinking, I dropped the ball on many opportunities for financial security, which became a stressor in our home.
My addiction to alcohol began to push my family away and I began to lose my business. I tried to stop drinking on several occasions – I promised my wife that if I drank again, I would move out. Life got a lot better – money was coming in again – and I thought I could have a drink. I was wrong. That one drink led to a 2-week drinking binge, where I stayed home in my bed and drank. My wife reminded me of my promise and I began to make some calls to see where I could go, as I had no idea. A friend of mine who had had a similar problem suggested I contact DMHS.
After making my phone call, within a couple of hours I had a phone call back and a place to stay. With much fear and trepidation, I packed my bag and went. I was greeted by two incredible people, Sharon and John. During the intake process, they made me feel very welcome and very comfortable and very safe. In the following days that I stayed with them, the entire staff proved to be exceptional – always willing to listen and make you feel welcome. Much support was given in finding a place to live, job opportunities, crisis management and continued help. While I was here, I was made to feel so comfortable and with the questions I had about leaving this place or getting my business back on track or looking into other recovery programs, the staff would get me the information I was looking for. Just an incredibly helpful staff.
One day, when I first drove here, I missed the mealtime and thought I had missed dinner. But I found out, they had put dinner aside for me. It was a great feeling. Even when I wasn't here, they were thinking of me.
I have recommended these services to many others I have met along my way – I've given out several cards. Thanks to the support and the encouragement and the follow-up that I've received from this organization, my company is flourishing again, I am coming up to 3-months sober and my family and I are in counselling and are slowly being reunited.
Thank you DMHS for being a cornerstone in rebuilding my future.