Marissa is a young lady who is a member of an online fandom group that celebrates Doctor Who, Supernatural and Sherlock. She enjoys the escape this gives her and the opportunity to talk with people who share her interests. She is also into music, art and drama.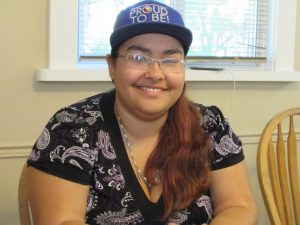 She was first diagnosed at age seven with post-traumatic stress disorder as a result of physical, mental and sexual abuse in foster care. More recently she has coped with borderline personality disorder.
A resident of DMHS Housing, Marissa is gradually learning the coping skills to manage her illness effectively. She is also connecting with her native heritage. Here is her story.
Marissa's story
I was adopted out of foster care by a loving family. I was a really hard child to handle due to everything I'd been through in foster care. By age eighteen, my parents were at their wit's end and referred me to DMHS Community Support. My community mental health worker referred me to DMHS Residential Services, and within six months I had moved into McKay House.
When I first moved there, I struggled a lot with suicidal thoughts and behaviours and with self-harm. I was in the hospital almost daily for a couple of months, but gradually I started opening up to the McKay House staff instead of resorting to unhealthy behaviour.
My medications were being prescribed by a family doctor and weren't working well, so the staff linked me with a psychiatrist who changed the meds I was on for the better.
Between my relationships with staff and more effective medication, I was better managing my illness. The New Winds Day Program was also a great help – I made their logo! I met new people who I can relate to and became friends with plus I learned more skills to help me manage unhealthy thoughts.
I'm now in the second stage of DMHS Housing, at Sims House, and my next move will be into my own apartment. I used to fight a lot with my parents but as my health improved, so did our relationship and we get along really well now. I am also reuniting with my biological family.
Most recently, I have been working with DMHS' Aboriginal Mental Health and Addictions Support Worker. She is helping me tap into my native roots and is helping with practical matters too.
The journey to where I am now has been really hard. My depression was really strong before but now I can see a light at the end of the tunnel and it's not a train! I feel that without DMHS, I would be dead by now, probably by suicide. DMHS saved my life and has helped me build a better one!