Kelvin, a member of the Brain Injury Association of Durham (BIAD) and a long-time resident of Durham Mental Health Services' Supportive Housing program, was recently honoured with an award from BIAD in recognition of his volunteer work.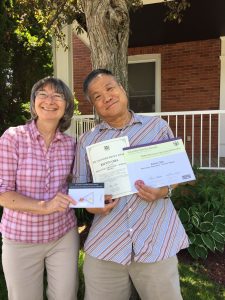 Betty Mann, Kelvin's Residential Counsellor, describes Kelvin's journey towards this award. "Kelvin came into our agency from Ontario Shores Centre for Mental Health Sciences in 1994. When he was about 26 years old, he came down with encephalitis which devastated his short-term memory to the point where he needed continuous staff support.
"Before his illness, Kelvin taught phys-ed. He has always loved sports and is very competitive in nature. So, he strives to excel in whatever activity he is involved in. He used to volunteer at Windreach Farms and at Ontario Shores' vocational rehabilitative programs. Kelvin also got involved in the Special Olympics, and received many awards and trophies in swimming, bowling, soccer and softball. He has a love of music and occasionally plays the violin at his church.
"Kelvin has been able to maintain gains in his daily living skills by keeping to daily routines. He writes down lists to help him retain memories and skills. I've noticed that he will often take people to show them his awards in his bedroom, as if to revive the memories of his accomplishments and give himself a sense of meaning and identity."
"When a previous vocational rehabilitative placement closed down, the opportunity opened up to join BIAD's daily programming. Kelvin took to this immediately – he is so open to trying new things, he never shows any fear or trepidation."
"Kelvin is very creative and enjoys participating in programs such as art and creative writing," says BIAD Day Service Facilitator Elizabeth Stubbert. "Kelvin is always eager to help out especially in the kitchen. His friendly and outgoing personality makes him a pleasure to have around."
Kelvin's family has always been supportive of him. "We are extremely proud of Kelvin and his perseverance and energy to overcome his personal challenges," says his brother Warren. "He has found himself in his own way and continues to contribute to his community."
"Uncle Kelvin is a favourite among his nieces and nephews, and he is always a willing and enthusiastic participant in their many games and activities."
"We must also extend our thanks to the staff of McKay House and Durham Mental Health Services for the continued support and encouragement they provide to Kelvin."