Kate is an avid sewer who manages a successful small business selling clothing. A history of depression has at times interfered with her wellbeing, but with the help of DMHS services and other supports, Kate is learning to effectively manage her symptoms. Here is her story.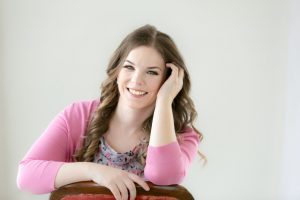 I first experienced depression when I was 18 years old. I wasn't able to function. Even activities of daily living were a struggle, and attending college tended to make it worse. Over several years, I was vulnerable to depressive episodes.
In 2009, when I was 21, it got so bad that I tried to commit suicide. However I was not hospitalized and I ended up managing this episode effectively. But depression seemed always to be lying in wait for me. In late 2010, when my father passed away, it came flooding back. Within a year, my mother had a mild stroke and my grandfather died. At this time, I got some tremendously valuable advice from my doctor. He referred me to the Rouge Valley Day Hospital and also let me know about the New Leaf Day Program at Durham Mental Health Services.
For a year, I held back and did not follow-up with New Leaf. But when I finally went, it was amazing. I felt so welcomed right away. I learned new ways of coping with my depression. I made good friends. I learned new skills such as crocheting, which I loved. New Leaf was a safe and supportive environment where I could do the work I needed to do in order to improve and then maintain my wellbeing. I eventually felt ready to graduate from this terrific program and once again go out on my own.
At New Leaf, I had realized I had a gift for crocheting and I started a business selling my creations in 2016. By 2017, arthritis in both hands prevented me from doing it. I knew I wanted to stay involved in the handmade craft community, and so I branched into sewing. I fell back in love with a craft I had first learned from my grandmother at age 8, and had soon mastered it.
In September 2018, I had the official grand opening of my business. I was so grateful for the support and the acceptance that I found at New Leaf that I chose to donate the proceeds from a silent auction to New Leaf. It was my way of giving back and saying "Thanks" for all I had received and had learned. I recommend the program to anyone needing support.