Jennefer is a member of DMHS' New Winds Day Program who enjoys doing word searches and participating in the Community Kitchen. She is a proud and loving mother to a 19-year-old son.
Jennefer was diagnosed with schizophrenia at a relatively late age. After two hospitalizations she has moved forward with her life, stabilizing her symptoms, living independently and participating actively at New Winds. Here is her story.
Jennefer's story
Before my diagnosis, I lived an active life. I worked in retail, including at a vintage clothing store on Roncesvalles in Toronto. I raised a healthy, happy son. I stayed physically active exploring Toronto during long walks.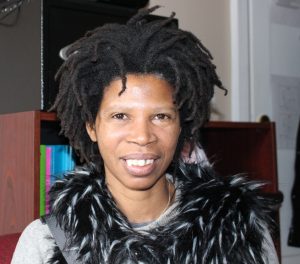 At the age of 40, I had moved to Whitby and I started showing symptoms of schizophrenia. I would shout a lot in my apartment, I was talking to myself a lot, I was hearing voices. This was a scary time. I would be up all night, having screaming matches with myself, thinking that people were watching me and that I could hear their thoughts.
One day, I was found screaming on the street and was picked up by police. They took me to Lakeridge Health Oshawa where I was admitted as a psychiatric inpatient. At this time, they didn't say I had schizophrenia; they did tell me that I needed a monthly injection. I was quickly discharged.
Shortly after, I was walking around downtown Toronto and I started screaming again. The police noticed and chased me; I went into the subway and ended up jumping onto the tracks. The police followed me, subdued me and carried me to safety.
I ended up in St. Joseph's hospital for three weeks; that's when I found out I had schizophrenia. I began treatment there and it made me well again. I returned to my home in Whitby.
I still experienced some symptoms such as hearing voices and one day I pulled the fire alarm at my apartment building. During the court procedure that followed, the judge directed me to get more help, to find something to do with my time. I was connected to DMHS Court Support, who introduced me to the New Winds Day Program. I started attending immediately and have been happy ever since. I go every day that they are open, Monday to Friday.
The day program keeps me busy. We talk about interesting subjects. I get a free nutritious lunch and can participate in the Community Kitchen, learning new recipes and getting food to take home. The people are helpful and welcoming. The staff are really easy to talk to and they share lots of information about community events and resources.
If I wasn't coming to day program, I would probably be walking and watching TV non-stop. It would be pretty boring, and I know it wouldn't help my mental health to be sitting in a room by myself all the time. I credit New Winds with helping me maintain my overall health and happiness. I think everyone should come to New Winds!!