Looking back on my life, I realize I have experienced depression periodically from elementary school on. I was bullied physically and emotionally on account of my native heritage. I was isolated and in Grade Six, I started to self-harm –for example, punching a tree as hard as I could or cutting in places no one could see, to keep my pain hidden. This came to a crisis when I was hospitalized for depression in 2016.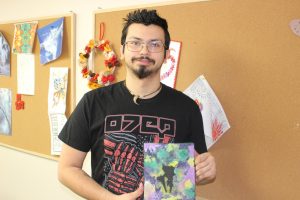 At the hospital, I had a lot of support and could be frank with the doctors about what I was going through. I was diagnosed with Borderline Personality Disorder (BPD). I got involved with the Day Program at Ajax-Pickering Hospital and made many healthy connections and learned new non-maladaptive coping skills. I was also referred both to the Ontario Shores Outpatient DBT Program (Dialectical Behavioural Therapy – specifically for BPD) and to DMHS' New Leaf Day Program, operated in partnership with COPE Mental Health.
DBT helped me recognize my triggers and cut them out of my life. It also helped me learn to manage strong emotion more effectively. The New Leaf Program has helped build my confidence; through their support, I gained the courage to take a course for a security guard license. I just heard that I passed with 92% and will receive my certificate shortly.
New Leaf has also helped me learn new artistic techniques. For example, I've been designing t-shirts dyed with bleach, and they've been a big hit. My ambition is to collaborate with some friends on illustrated books, featuring short fiction and mixed media art.
New Leaf is a great supportive helping environment – I think of it as "our functional dysfunctional family." We all have our quirks and challenges but we come together to support and encourage each other.
One thing I've always had a passion for is comic books. In addition to being an artist myself, since 2014 I have volunteered at the annual Toronto Comic Convention and also at Fan Expo Canada. Through this volunteer work, I've had a chance to meet and spend time with many established and up-and-coming comic book artists. This year, I will have my own vendor's table at the Pickering Comic Con, and everyone at New Leaf has been really excited for me and some plan to visit me at the convention. It's invigorating to share my art at New Leaf, and to know I am part of such a close and supportive community. I thank them for all the support I've received!
To visit Eric on Instagram and see more of his art, search Instagram for the user name "bearclawcrafts1."