In my late 30s, for a year-and-a-half, I was bedridden due to a condition called RSD – Reflex Sympathetic Dystrophy. During this time, I was extremely inactive and isolated; my only real contacts were the nurses who provided physical therapy and my children. Emotionally, I felt hopeless and depressed. Before this I had lived an active life, and then all of a sudden I couldn't do anything.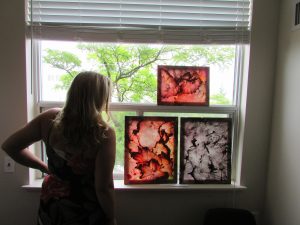 It took years but I partially recovered physically, though I still experience many debilitating physical symptoms on a daily basis. Socially and emotionally, however, I was still where I didn't want to be – years of abuse left me with emotional scars. I wanted to do something to help myself mentally.
I learned about the New Leaf Day Program operating just down the hall from my apartment. I was curious and thought, "Why not check it out?" My first day I came in and ran right out – my anxiety went through the roof. I kicked myself for not giving it a chance and thought, "You have to try it at least once." And then I loved it.
Through my contacts with staff and colleagues at New Leaf, I've learned a lot of things that have helped me. One thing that really helped was completing the WRAP (Wellness Recovery Action Plan) program. Now when I am getting depressed or anxious, I have a whole variety of tools I can use to lessen the stress, whether it's listening to music, or putting on comedy shows, doing Zumba or belly dancing, doing crayon art, or going for walks with my dog.
When I'm stressed out, I make myself come to New Leaf; even if I don't fully participate, it's a calming environment for me. It feels almost like a second home. I've developed friendships. The staff build genuine helping relationships – they know you as an individual, not as a number or a "client."
If someone was on the fence about trying New Leaf, I would say, "Just make yourself come to it." It's like throwing pebbles in a pond, you don't notice many ripples right away but steadily they make a difference. It's not that I never get down or anxious anymore, but I've adapted different ways of thinking and of doing things and those have become my new normal.